Final Fantasy X-2 Enemy
Tindalos
ティンダロウ (Tindarosu)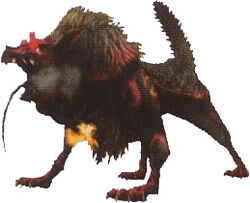 Lupine
Statistics
Level
HP
MP
30
3,324
12
Strength
Magic
Defense
40
19
4
M. Defense
Agility
Accuracy
3
135
0
Evasion
Luck
33
3
EXP
AP
Gil
900
1
315
Tindalos
ティンダロウ (Tindarosu)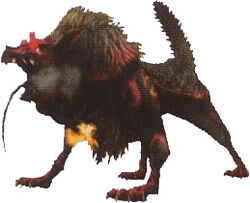 Lupine
Statistics
Level
HP
MP
36
7,330
12
Strength
Magic
Defense
40
19
8
M. Defense
Agility
Accuracy
4
152
0
Evasion
Luck
41
4
EXP
AP
Gil
985
2
550
The Tindalos is an enemy from Final Fantasy X-2. Its attacks can deplete MP. It is the most dangerous Lupine fiend and like most Lupines, it can increase its strength two levels with Strength Up. In Oversoul, its Sextuple Attack attacks six times in a row; its Gil Gnasher removes 1,000 gil. It is vulnerable to Instant Death or Petrify attacks.
Etymology
Edit
[view · edit · purge]A Hound of Tindalos is a fictional creature created by Frank Belknap Long and later incorporated into the Cthulhu Mythos when it was codified by August Derleth. They first appeared in Long's short story The Hounds of Tindalos (1929). Lovecraft mentions the creatures in his short story The Whisperer in Darkness (1931).
Related enemies
Edit
Ad blocker interference detected!
Wikia is a free-to-use site that makes money from advertising. We have a modified experience for viewers using ad blockers

Wikia is not accessible if you've made further modifications. Remove the custom ad blocker rule(s) and the page will load as expected.