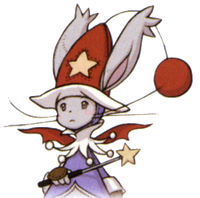 Bends time to shift the tide of battle.
—Description
The Time Mage is a moogle Sky Pirate in Final Fantasy XII: Revenant Wings. It is a Ranged unit, and its repertoire includes elemental magic and various status-inducing spells.
The Time Mage has an above-average Magick stat, but its physical attributes, including HP, are very low, making it a good target for Melee units.
| Skill | Effect |
| --- | --- |
| Thunder | Deal Lightning damage to one foe. |
| Firaga | Deal fire damage to all foes in range. |
| Slowga | Slow the actions of all foes in range. |
| Hastega | Increase Speed of all allies in range. |
| Regenga | Restore HP to all allies in range over time. |
| Stopga | Halt the actions to all foes in range. |
| Comet | Deal heavy damage to all foes in range. |
| Tonguetwister | Reduces magick cast time. |

Cloud Strife
:
I couldn't finish 'em. Looks like this's gonna get complicated.
The following tables are incomplete and require the japanese, romaji entries to be filled. If you wish, please examine the table and add anything missing. Remove this notice upon completion.
Missions
Edit
Final Fantasy XII: Revenant Wings Enemy
Regretful Time Mage
({{{japan}}},

{{{romaji}}}

?)
Level
HP
14
378
Str
Mag
Stm
Mnd
84
121
84
116
Atk
MAtk
Def
MDef
36
60
36
59
Speed
AtkSpd
MvSpd
Sight
100
37
0.714
4
| | |
| --- | --- |
| Location | {{{Location}}} |
| Type | Ranged |
| Nature | Thunder |
| Weak Against | None |
| Resistant to | None |
| Immune to | None |
Final Fantasy XII: Revenant Wings Enemy
Foulmouthed Moogle
({{{japan}}},

{{{romaji}}}

?)
Level
HP
32
504
Str
Mag
Stm
Mnd
156
224
156
234
Atk
MAtk
Def
MDef
69
116
69
118
Speed
AtkSpd
MvSpd
Sight
190
24
0.714
4
| | |
| --- | --- |
| Location | {{{Location}}} |
| Type | Ranged |
| Nature | Water |
| Weak Against | None |
| Resistant to | Earth |
| Immune to | None |
Final Fantasy XII: Revenant Wings Enemy
Sermonical Sorcerer
({{{japan}}},

{{{romaji}}}

?)
Level
HP
18
406
Str
Mag
Stm
Mnd
100
140
100
145
Atk
MAtk
Def
MDef
45
80
45
76
Speed
AtkSpd
MvSpd
Sight
120
23
0.714
4
| | |
| --- | --- |
| Location | {{{Location}}} |
| Type | Ranged |
| Nature | Thunder |
| Weak Against | Fire |
| Resistant to | Water |
| Immune to | None |
Final Fantasy XII: Revenant Wings Enemy
Time Pirate
({{{japan}}},

{{{romaji}}}

?)
Level
HP
30
490
Str
Mag
Stm
Mnd
148
212
148
222
Atk
MAtk
Def
MDef
67
113
67
115
Speed
AtkSpd
MvSpd
Sight
180
24
0.714
4
| | |
| --- | --- |
| Location | {{{Location}}} |
| Type | Ranged |
| Nature | Water |
| Weak Against | Earth |
| Resistant to | Thunder |
| Immune to | None |
Final Fantasy XII: Revenant Wings Enemy
Apathetical Sky Pirate
({{{japan}}},

{{{romaji}}}

?)
Level
HP
41
567
Str
Mag
Stm
Mnd
192
278
192
293
Atk
MAtk
Def
MDef
88
149
88
158
Speed
AtkSpd
MvSpd
Sight
235
13
0.714
4
| | |
| --- | --- |
| Location | {{{Location}}} |
| Type | Ranged |
| Nature | Fire |
| Weak Against | None |
| Resistant to | None |
| Immune to | None |
Final Fantasy XII: Revenant Wings Enemy
Time Mage
({{{japan}}},

{{{romaji}}}

?)
Level
HP
Varies
280 - 973
Str
Mag
Stm
Mnd
28 - 424
37 - 631
28 - 424
32 - 626
Atk
MAtk
Def
MDef
22 - 121
38 - 186
22 - 121
38 - 186
Speed
AtkSpd
MvSpd
Sight
30 - 525
36
0.714
4
| | |
| --- | --- |
| Location | {{{Location}}} |
| Type | Ranged |
| Nature | Varies |
| Weak Against | Varies |
| Resistant to | Varies |
| Immune to | None |