Time Gate
Talk

16
13,964 pages on
this wiki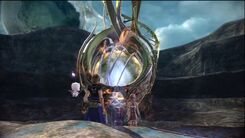 "What's happening?"
"Whoa, far out."
"You see? It's a Time Gate."
"Whaddya mean, 'Time Gate'?"
A (Time Gate, 時間ゲート?, lit. "Jikan Gēto"), more commonly called a gate, is a gameplay and story element from Final Fantasy XIII-2. The Time Gates are connected via the Historia Crux and by stepping into a Time Gate, one can travel through time to a specific location. In order to activate a Time Gate, one must possess the necessary artefact. Some require a specific artefact, while others can only be activated using a Wild Artefact, which is consumed when used.
Profile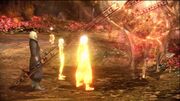 Only those for whom a Time Gate is intended may pass through it, otherwise, they will be blocked upon approach. It is said that only those with an affinity for chaos may make use of the Time Gates. When a Time Gate is activated, writing in Etro Script appears circling around the gate.
Multiple Time Gates can appear in each location, but each leads to a different world. This can allow access to the same world in several different time periods, and each one contains many different features: flora, fauna, and most importantly, storyline elements. Returning to places at different times is the key to unlocking the story, as some information and items can only be attained in certain times.
There are two types of Time Gate: golden gates, "blessed by the goddess and shine like the sun", and blue gates. Golden gates require special artefacts to open them, each gate needing a different artefact. Blue gates, however, can only be opened by using Wild Artefacts, which can be found scattered across the timeline.
Datalog
See also: Datalog/Paradoxes.
Time Gates appear as strange glowing portals, and each requires a specific 'artefact' to activate it. By passing through these gates and traveling outside the timeline, it is said one can eventually arrive in Valhalla.
List of Time Gates
| Era | Location | Artefact | Description |
| --- | --- | --- | --- |
| New Bodhum 3 AF | Meteor Impact Site | Giant's Artefact | The first Time Gate appears near New Bodhum. The artefact needed to open it is found in a mirror in Serah's room in the NORA house. It leads to Bresha Ruins 5 AF. |
| Bresha Ruins 5 AF | Echoes of the Past | Eclipse Artefact | One of three Time Gates in Bresha Ruins 5 AF. It's artefact can be found after beating Atlas. It leads to Yaschas Massif, 10 AF. |
| Bresha Ruins 5 AF | Echoes of the Past | Reunion Artefact | One of three Time Gates in Bresha Ruins 5 AF. Its artefact can be found after beating Atlas. It leads to Sunleth Waterscape, 300 AF. |
| Temporal Rift | Temporal Rift | No artefact needed | The Time Gates located in Temporal Rift anomalies are always open, but Serah and Noel must complete various puzzles in order to get to the Time Gate. Going through the Time Gate they resolve the anomaly and the rift disappears. |
| Bresha Ruins 300 AF | Echoes of the Past | Wild Artefact | A blue Time Gate in the section that is blocked off in previous eras; opened with a Wild Artefact. It leads to the Yaschas Massif 110 AF. |
| Yaschas Massif 10 AF | The Pass of Paddra | Hollow Artefact | The second gate found in Yaschas Massif, 10 AF.Leads to Oerba 200 AF. |
| Yaschas Massif 1X AF | The Pass of Paddra | None | A gate from Oerba, 200 AF. It is used to return to Historia. |
| Yaschas Massif 1X AF | | Wild Artefact | |
| Sunleth Waterscape 300 AF | | | |
| Sunleth Waterscape 200 AF | | | |
| Academia 400 AF | | | Yeul gives Serah and Noel the artefact after having been saved from Zenobia. The gate leads to Augusta Tower 200 AF. |
| New Bodhum 700 AF | Town Square | Artefact of the Ark | The final Time Gate appears off the coast of New Bodhum in 700 AF. The artefact needed to activate it is received during a cutscene It leads to Academia 500 AF. |
Trivia