Tidus
18,970 pages on
this wiki
Talk

115
Tidus is the main protagonist of Final Fantasy X, a rising star blitzball player from Zanarkand. After the gargantuan monster known as Sin attacks his hometown, Tidus is transported to the world of Spira. Lost, confused, and seemingly out of place, Tidus meets a newly-fledged summoner named Yuna, and her guardians. Yuna is to set out on a pilgrimage to put an end to Sin, and by joining Yuna on her pilgrimage Tidus hopes he will find his way home.
Yuna is the main protagonist in Final Fantasy X-2, but her relationship with Tidus works as the prime motivation for her to start her quest.
Pronunciation
Edit
Since Tidus is never directly referred to by name in audible dialogue, instead being referred to using impersonal pronouns (you, him, new guy, brudda), the pronunciation of his name among fans is sometimes unclear, although the expected Japanese pronunciation is Tee-da. This was confirmed in Kingdom Hearts, which features him in a cameo, and was also confirmed in an interview with James Arnold Taylor who did Tidus's English voice. Tidus's name is pronounced Tee-Dus [tiːdʌs] in English-language trailers and commercials released prior to the game.[1]
In Kingdom Hearts II, although Tidus doesn't appear, Selphie mentions him, pronouncing his name as Tie-dus [taɪːdʌs]. Though ostensibly unrelated to either, the pronunciation of his name among fans may be affected by its resemblance to the English word "tide" and the given name "Titus". In Final Fantasy XIV: A Realm Reborn a character mistakes the name "Titan" with "Tidus". However, in the English release of Dissidia Final Fantasy, all characters refer to him as Tee-dus. More recently, he was referred to as Tee-dus in the English version of Final Fantasy X -Will-.
Appearance
Edit
Tidus has disheveled blond hair with spiky layers. His hair is brown in his childhood flashbacks. He wears the logo of his blitzball team, the Zanarkand Abes, as a silver pendant, and the logo is also printed on his right trouser-leg. Tidus puts his own flair on the regular blitzball player's outfit by having one shorter and one longer trouser-leg, similar to his father Jecht, who wore a sash on his right side over a pair of shorts. Tidus wears yellow and black shoes, a gauntlet on his left hand and a black glove on the other, a yellow jacket with a white hood, and a blue pauldron and armor over his left arm. The dark dungaree-type outfit he wears over his other clothes is fastened with a black belt that has a metal chain.
In Final Fantasy X -Will- Tidus's artwork has aspects of Jecht's design, wearing a similar headband.
Personality
Edit
Tidus is upbeat and carefree and at first appears childish. He turns more serious when things get hectic, and despite his carefree ways, conceals a troubled past. Tidus is sensitive and even when giving an emotional response to most of his arguments, tends to give a good rationale. Having been picked on throughout his childhood by his blitzball-playing father motivated Tidus to become a blitzball player himself.
To Tidus's dismay, he has similarities to his father who tended to deny his position, take things easy, and never worry about the present situation leaving things for the morrow, traits Tidus despised about him. Tidus's resemblance to his father is pointed out by Auron, who says Tidus is "the one running away". A lot of Tidus's personality is shaped by the comments he used to receive from his father, and how he grew up to resent him. Despite having been verbally offensive, at heart, Jecht was proud of his son and his resolve. Tidus confronts his childhood and his relationship with his father when living out his new life in Spira, and matures from a self-centered and outspoken athlete to a selfless hero.

Tidus is a classical Warrior character and uses swords and shields during battle. He can be considered part Time Mage because he uses abilities like Haste, Slow and Delay Attack. He lags behind Auron in terms of Strength and Defense, but makes up for it with high Agility, Evasion, and Accuracy growth, allowing him to dispatch the speedier fiends. Tidus begins with no special commands, but will quickly learn Cheer, Flee, Extract Speed, Provoke, and Delay Attack.
Tidus's Overdrive is Swordplay, where he learns new skills by repeatedly using his old ones. When counter-attacking a fiend on the ground, he performs a regular attack; when counter-attacking a fiend in the air, he lifts his sword high and swings to the right; when countering underwater, Tidus reverse-swings his sword as if attacking a flying fiend, and performs a regular attack when attacking a faster fiend e.g. Maelspike.
Note: Values in parentheses are node stat bonuses.
Equipment
Edit
Tidus can equip swords and shields. His signature weapons are the Brotherhood sword he receives from Wakka, and his Celestial Weapon, the Caladbolg, that deals more damage the higher his HP is.
Abilities
Edit
Tidus's Sphere Grid path runs near Yuna's and Auron's, and his representing color is aqua. The unique abilities in Tidus's default position on the Sphere Grid include the following:
Note: Abilities denoted with an asterisk (*) are available in the International, PAL, and HD Remaster version of Final Fantasy X.
Ability
Description
Ability
Description
Cheer
Raises party's strength and defense.
Flee
Aid party's escape from battle.
Extract Speed*
Allows target to drop speed spheres.
Haste
Speed up the actions of one ally.
Provoke
Draw an enemy's attack toward the character.
Delay Attack
Delays target's next turn.
Slow
Slow down the actions of one enemy.
Slowga
Slow down the actions of all enemies.
Delay Buster
Greatly delay target's next turn.
Hastega
Speed up the actions of all allies.
Quick Hit
Strike quickly with reduced recovery time.
Blitzball
Edit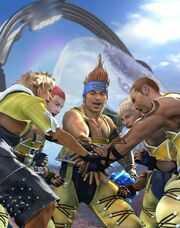 With his high SH and EN, Tidus is best in a forward position. His PA, initially low, increases to a decent figure by later levels. Tidus is the best offensive player due to Jecht Shot, but struggles defensively. He begins with Sphere Shot.
Stats
Key Techniques
Venom Tackle
Drain Tackle 2
Anti-Venom 2
| LV | 2 | 5 | 10 | 15 | 20 | 25 | 30 | 35 | 40 | 45 | 50 | 60 | 70 | 80 | 90 | 99 |
| --- | --- | --- | --- | --- | --- | --- | --- | --- | --- | --- | --- | --- | --- | --- | --- | --- |
| HP | 132 | 237 | 441 | 679 | 954 | 1264 | 1609 | 1990 | 2407 | 2859 | 3347 | 4429 | 5853 | 7020 | 8529 | 9999 |
| SP | 60 | 60 | 60 | 61 | 61 | 61 | 62 | 62 | 63 | 63 | 64 | 64 | 65 | 66 | 67 | 67 |
| EN | 10 | 12 | 16 | 19 | 23 | 27 | 30 | 34 | 37 | 41 | 45 | 52 | 59 | 66 | 73 | 80 |
| AT | 3 | 4 | 5 | 6 | 7 | 8 | 9 | 10 | 11 | 12 | 13 | 15 | 17 | 19 | 21 | 23 |
| PA | 3 | 4 | 6 | 8 | 10 | 12 | 14 | 16 | 18 | 20 | 23 | 27 | 32 | 38 | 44 | 49 |
| BL | 2 | 2 | 3 | 4 | 5 | 6 | 7 | 8 | 9 | 10 | 11 | 12 | 14 | 16 | 18 | 19 |
| SH | 10 | 13 | 17 | 21 | 25 | 29 | 33 | 37 | 41 | 44 | 49 | 55 | 61 | 67 | 73 | 78 |
| CA | 1 | 2 | 3 | 4 | 5 | 6 | 7 | 8 | 9 | 10 | 11 | 13 | 15 | 17 | 19 | 20 |
Special Techniques
| Technique | Requirement | Obtaining Method |
| --- | --- | --- |
| Jecht Shot | Win Minigame | "Jecht Shot Challenge" Minigame |
| Jecht Shot 2 | Jecht Shot, Anti-Venom 2 | Tournament Prize |
Final Fantasy X-2Edit
In the International and HD Remaster versions, Tidus can be recruited as a party member through the Creature Creator system. To recruit Tidus, the player must defeat him in the Farplane Cup in the Fiend Arena and must win the cup after. The abilities Tidus can naturally learn are Spiral Cut, Blitz Ace, and Hastega. Tidus can equip any of the common dresspheres. Like all monster allies, Tidus is controlled by the game's AI.
In the International and HD Remaster versions, Tidus can be fought during the Farplane Cup in the Fiend Arena as a boss.
Tidus Coin
Coin No.
64
Coin Value
9
Trait
Quota x5
Location
Win from the Bevelle Core Sphere player in the Luca Stadium.
Battle quotes
Edit
Creation and development
Edit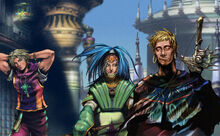 Early in development Tidus was envisioned having black hair; a black-haired Tidus appears in a beta video at the Square Millennium Event in 2000 running around in full 3D. Tidus's hair color was later changed, possibly to bring his appearance closer to the idea of the "sun", a recurring theme for his character; Tidus's name comes from the word tida, which means "sun" in Okinawan, and establishes a contrast between him and Yuna, whose name means "moon" in Okinawan. The contrast is represented by in-game items named for the sun and moon that empower Tidus's and Yuna's Celestial Weapons. An apparent prototype of Tidus is seen in early concept art for Final Fantasy X.
In the original plot draft for Final Fantasy X, Tidus was a plumber with a job of piping construction and dispatching underwater fiends with the attitude of a young, angry Japanese gang member. This was changed because director Yoshinori Kitase felt it would have made for a "weak main character". Final Fantasy VII and Final Fantasy VIII had detached and stoic protagonists (Final Fantasy IX was created by a different team), and to break the run of this kind of character, Yoshinori Kitase had Tidus to be cheerier and more optimistic.[2]
Scenario writer Kazushige Nojima considered having Tidus be an undead, but this was changed due to the release of the film The Sixth Sense, which had a similar plot twist. Since Auron is not the main character the plot point was transferred to him.[3]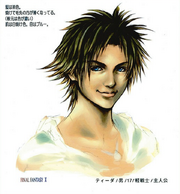 For most of Final Fantasy X, Tidus's thoughts and feelings are narrated to the player by his monologue where Tidus recites the game's events in a diegesis. This was included because Nojima was initially concerned with establishing a connection between the player and the main character; the story was thus designed in a way the player's progress through the world and growing knowledge about it is reflected in Tidus's narration.[4]
Tidus's story arc in Final Fantasy X alludes to the Japanese folklore of Susanoo and the Yamato-no-Orochi. Susanoo (Tidus) is banished from his home in the Heavens (Dream Zanarkand) and trying to win back favor to return. He comes to the mortal world (Spira) and comes across two earthly deities who are weeping because they have to sacrifice their daughters (summoners) to the evil Yamato-no-Orochi (Sin) to keep it from destroying their home. They wish to save their eighth daughter (Yuna) so Susanoo comes up with a plan that involves getting the dragon-snake drunk with wine ("Hymn of the Fayth") and killing it in its drunken state.
In the Beyond Final Fantasy feature included in the International and PAL versions of Final Fantasy X, Tidus's voice actor, James Arnold Taylor, describes Tidus as an aggressive, excited young man who always wants to be right and be a hero. When preparing for his role as Tidus's English voice actor, Taylor drew from his personal life, as he says he can relate to the way Tidus reacts to things.

Musical themes
Edit
In Final Fantasy X "Tidus's Theme" has a low tempo and mellow tune. Two notable times the theme plays are when Tidus is heading for the blitzball stadium at the beginning of the game, and when he is remembering Jecht showing him the Jecht Shot while the party is on the ferry to Luca. It also plays for the final time after the party wins the final battle and the villagers of Besaid Island are rejoicing. "Tidus's Theme" is included on the Piano Collections: Final Fantasy X album as a piano arrangement. "Tidus's Theme" was rearranged for Final Fantasy X/X-2 HD Remaster, featuring an even mellower tune that eliminates the use of harmonica. "The Blitzers" is an energetic and faster-paced variation of "Tidus's Theme" played in certain scenes involving blitzball.
A vocal song associated with Tidus is "Go Dream" on the album, Feel/Go Dream: Yuna & Tidus, and it is sung by Masakazu Morita.

Other appearances
Edit
Tidus appears as a legendary (5-stars) Triple Triad card.
Tidus Card

Card No.
77
Total

total stats of the card

27
Type
None
Description
Obtain
Currently Unknown.
Tidus is a Warrior of Cosmos and stands as the hero representing Final Fantasy X, opposing Jecht.
Though seen as cheerful and energetic by his companions, Tidus's weak point is Jecht, a warrior of Chaos, to the point the very mention of his name angers him. Though he confuses his friends in doing so, Tidus claims to hate Jecht and feels no sympathy for him in spite of their relationship, but when Tidus is given the chance to battle his father he hesitates and questions his motivations. Jecht, likewise, defies orders from the Emperor about Tidus, and father and son meet to do battle on their own terms.
Tidus's alternate outfit is a slight remodel, removing most of the tears and frays from his uniform along with removing the high collar from his shirt and restoring the mesh-basket armguard, based on his Final Fantasy X appearance.
Tidus returns in the prequel to Dissidia Final Fantasy, summoned for the first time to the war as a Warrior of Chaos. Bearing no memories of his home except for his hatred for Jecht, Tidus wishes to find and defeat him. Yuna tries to make him remember her and that he and his father resolved their differences, but the Emperor attacks her. Tidus intercepts the attack to protect Yuna, and while Yuna fights the Emperor, Jecht, a warrior of Cosmos in this cycle, saves Tidus's life by transferring his power to him, making Tidus into a Warrior of Cosmos and leaving Jecht an empty shell to eventually become a Warrior of Chaos.
Tidus's alternate outfit is redesigned to fully resemble his original Final Fantasy X appearance, while his third outfit leaves him shirtless as in Yoshitaka Amano's concept art of him.
Tidus is set to return in the arcade reboot of Dissidia. He is classed as a Speed-type character.
Tidus is a recruitable character. He is of the Visitor race and has Ace as his main job. His attack is Spiral Cut and his abilities are Slice & Dice and Energy Rain.
Cloud:

I couldn't finish 'em. Looks like this's gonna get complicated.

The following tables are incomplete and require the level 30, 40, 50, 60, and 70 Stats areas to be filled. If you wish, please examine the table and add anything missing. Remove this notice upon completion.
Tidus is a default playable character in Theatrhythm Final Fantasy.
He is a Speed oriented character. His Limit, Blitz Ace, deals damage in proportion to his Strength and Agility.
| Level | HP | CP | Strength | Magic | Agility | Luck |
| --- | --- | --- | --- | --- | --- | --- |
| 1 | 258 | 8 | 15 | 11 | 19 | 15 |
| 10 | 1,027 | 14 | 35 | 24 | 43 | 33 |
| 20 | 1,883 | 20 | 56 | 39 | 69 | 54 |
| 80 | 6,395 | 50 | 171 | 119 | 210 | 165 |
| 90 | 6,631 | 50 | 177 | 124 | 218 | 171 |
| 99 | 6,844 | 50 | 183 | 128 | 225 | 176 |
iOS stats
Edit
Tidus returns as a default playable character. If the player did not select him among their party of four, he can later be unlocked by collecting Indigo Crystal Shards.
He is a Speed oriented character. His Limit, Blitz Ace, functions the same before, dealing damage in proportion to his Strength and Agility.
Abilities
Edit
Tidus appears in Pictlogica Final Fantasy as a playable character.
Tidus is an ally and a summonable Legend depicted in his default Final Fantasy X outfit. His abilities are Energy Rain and Blitz Ace. His EX abilities are Blitz Ace, Slice & Dice, Energy Rain, Spiral Cut and Jecht Shot. He was first introduced as an event ally during the coinciding events, Final Fantasy Special Event Parts 1 & 2 — Shattered World and Final Fantasy Special Event Parts 1 & 2 — Showdown, in which he was unlocked by clearing the Zanarkand Ruins stage. Leveling him up to 99 in these events granted the player his individualized SSR weapon, Iron Grip. In battle, Tidus is armed with his Brotherhood.
Tidus is an exclusive character available from the Premium Character Shop as a random downloadable content, he uses the Energy Rain ability during battle. His Brotherhood and Caladbolg swords are available as monster drops in the Zanarkand Ruins premium map, granting +2 and +10 attack respectively to the Warrior, Red Mage, Blue Mage and Onion Knight classes and to Firion, Terra, Celes, Zidane, Ashe and Lightning.
Tidus appears as a playable character. He could be first obtained as a pre-registration reward in the first week of the game's release, then during the Challenge Event Operation Mi'ihen as a First Time Reward for completing Command Center - Operations Control on the Classic difficulty track of that event, and was also available as a Bonus Quest reward for the Quest, "Complete S.S. Liki Elite (X)". He has also appeared in Defying Fate and Destiny's Path.
Assessment
Tidus is a Guardian. His combat role is Physical Speed.
Tidus is a straight-up warrior with good all-around physical stats and high Speed, his skills aimed at disabling foes and breaking down defenses as well as striking quickly. With a range of thrown weapons, he can easily switch from close combat to attacking at a distance as needed. Given a high-level sword, Tidus' overall damage output can be an asset to any party.
Stats
Level
HP
Attack
Defense
Magic
Resistance
Mind
Accuracy
Evasion
Speed
1
96
5
5
7
8
7
20
20
69
10
20
1,740
42
39
30
32
30
20
27
127
30
2,417
60
52
43
45
43
21
28
134
40
3,060
89
65
57
58
57
21
28
141
50
3,679
109
78
72
71
72
22
29
148
60
4,279
128
90
87
84
87
22
30
155
65
4,574
138
96
95
90
95
23
30
158
70
4,865
148
102
102
97
102
23
30
161
80
5,438
168
113
118
110
118
23
31
167
Rank

Max: 5

4
5
2
2
2
2
3
3
5
Abilities
Tidus can use Combat abilities up to rarity rank 5, Support abilities up to rarity rank 3, and Celerity up to rarity rank 5.
His default Soul Break is Delay Attack, which at the expense of one Soul Gauge segment deals physical damage equal to 130% power of a conventional attack to one target and inflict Slow with accuracy of 50%. The sword Brotherhood (X) allows Tidus to use Spiral Cut, which at the expense of one Soul Gauge segment unleashes a powerful attack on all targets which deals physical damage equal to 480% power of a conventional attack. The sword Lightning Steel (X) allows Tidus to use Slice & Dice, which at the expense of one Soul Gauge segment deals six successive attacks, dealing non-elemental damage to random targets, each hit dealing physical damage equal to 85% power of a conventional attack, summed up all hits cumulative damage is 510%.
Equipment
Tidus can equip the following weapon types: daggers, swords, thrown, and blitzballs. The swords Brotherhood (X) and Lightning Steel (X) allows Tidus to use Spiral Cut and Slice & Dice, respectively.
He can equip the following armor types: shields, hats, helmets, light armor, armor, and bracers.
He can equip accessories.
Gallery
Tidus appears in Final Fantasy Explorers.
Tidus makes an appearance in Mobius Final Fantasy as an obtainable card. His outfit is also made available to the main character.
Tidus is represented by multiple cards in the Final Fantasy Trading Card Game, four of them Promotional, all of the Aqua element. In his regular cards he is depicted in his Dissidia artwork, Final Fantasy X promotional poster art, Yoshitaka Amano artwork. In his promotional cards, he is depicted in his official Final Fantasy X artwork and render, Theatrhythm artwork and second alternative Dissidia outfit.
Tidus appears as an opponent and on Triple Triad cards in the version available via Final Fantasy Portal App. On Easy he uses All Open and Plus. On Normal he uses Same and Swap. On Hard he uses Plus and Chaos, and the rare five star cards of himself and Yuna can be won from him, among other cards. He uses the trading rule One.
Non-Final Fantasy guest appearancesEdit
A younger version of Tidus appears in the Square-Disney collaboration game: Kingdom Hearts, as childhood friends with Selphie Tilmitt of Final Fantasy VIII, Wakka and the three main protagonists of the series, Sora, Riku and Kairi. He is an energetic boy confident in his athletic ability who likes to spar using a wooden training sword known as a bokken where he employs a variation of his original battle stance. Once Sora, Riku and Kairi are swept off the island, Tidus, Selphie and Wakka are left behind.
In Kingdom Hearts: Chain of Memories, Tidus appears in the memory version of Destiny Islands along with Selphie and Wakka. In Kingdom Hearts II, he does not appear within the storyline, but is mentioned by Selphie who says he is too busy with his ball game (referring to blitzball) to accompany her to Destiny Islands. Another data version of Tidus appears in the Japanese mobile game Kingdom Hearts coded and its DS remake Kingdom Hearts Re:coded, where his appearance is identical to the first Kingdom Hearts.
Tidus's Kingdom Hearts design features a scar on his cheek that was not present in Final Fantasy X. Its origins remain unknown.
Tidus makes an appearance in Kingdom Hearts χ [chi] as one of the obtainable character cards.
Itadaki StreetEdit
Along with Auron, Yuna, Rikku and Paine, Tidus appears as a playable character in Dragon Quest & Final Fantasy in Itadaki Street Special.
Square Enix Legend WorldEdit
Tidus makes an appearance as a card.
Puzzle & DragonsEdit
Tidus and his sword Brotherhood appeared in Puzzle & Dragons as part of the Final Fantasy collaboration. The collaboration event happened in the North American version from 2 to 15 November, 2015.
Etymology and symbolism
Edit
[view · edit · purge]The Okinawan word tida means "sun". The sun theme is reflected in the crest and sigil needed to power up his Celestial Weapon, and possibly in his primarily yellow outfit and blond hair.
Tidus's name is never spoken in Final Fantasy X because the player can rename him. In Final Fantasy X-2, Tidus is referred to as merely he, him, or you-know-who. Tidus's name in Kingdom Hearts and Dissidia Final Fantasy is pronounced Tee-Dus, but it is pronounced Tai-Dus in a scene from Kingdom Hearts II. His name is pronounced out loud several times as Tee-Dus in Final Fantasy X -Will-. Later games and remakes have removed the feature to (re)name characters to make way for voice acting.
Yuna's and Tidus's characters may allude to the Chinese concept of the Yin and Yang. [view · edit · purge]In Chinese philosophy, yin and yang are concepts used to describe how apparently opposite or contrary forces are actually complementary, interconnected, and interdependent giving rise to each other as they interrelate. Many tangible dualities (such as light and dark, fire and water, and male and female) are thought of as physical manifestations of the duality of yin and yang. This duality lies at the origins of many branches of classical Chinese science and philosophy, as well as being a primary guideline of traditional Chinese medicine, and a central principle of different forms of Chinese martial arts and exercise.
Yin is the negative/passive/female principle in nature, and may allude to many other concepts e.g. the moon, shaded orientation, something covert or concealed, "of the netherworld", overcast or sinister.
Yang is the positive/active/male principle in nature, and may allude to many other concepts e.g. the sun, open, overt, and "belonging to this world".
Yuna makes numerous tributes to Tidus during Final Fantasy X-2, the most notable of which is the Zanarkand Abes symbol on her chest while donning the Gunner dressphere. Her hair has been cut into a similar style to his (excluding her long ponytail), and her battle stance while using the Warrior dressphere is the same as Tidus's battle stance, and she also mimics his victory pose and uses his battle quotes. Furthermore, while using the Warrior dressphere Yuna wields Tidus's Brotherhood sword, and with the Dark Knight she wields the Caladbolg, Tidus's Celestial Weapon.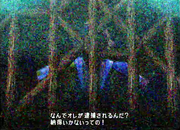 In the original Japanese version of the sphere recording in Final Fantasy X: Eternal Calm, Tidus is the one shown in the Bevelle prison instead of Shuyin.
Tidus and Yuna won 1st place in Game Informer Magazine February 2009 issue's "Best Couple of the Year" feature.
Tidus's elemental theme is water, represented by many factors in the game, such as his sword the Brotherhood, his swimming abilities, and his Sphere Grid color.
Although it is made clear Yuna and Tidus become romantically involved, other romantic scenes can occur in Final Fantasy X. In a dream sequence early in the game Tidus is confronted by Yuna and Rikku, arguing over which will go to Zanarkand with him. Later, in Guadosalam, if the player talks to Rikku for a third time when waiting for Yuna, and chooses the option "I'd rather have you, Rikku", Rikku will giggle, playfully hit Tidus, and say, in Al Bhed, "Maybe someday!" A similar option is available with Lulu, with Lulu replying, "Interesting. I suppose I could add you to my list. I wish you good luck, little boy, you're going to need it."
In the game's English ending, Yuna tells Tidus she loves him. In the Japanese version she only thanks him. This change was made to compensate for cultural differences.
In Final Fantasy XIV, there was a reference to Tidus in the Miner Lv. 30 quest "Little Saboteurs". The twin Lalafell miners mistakenly call a male player "Tidus" before they remember the player's name.
In Final Fantasy XIV: A Realm Reborn, a Roegadyn posing as a hero who slew the primal, Titan, repeatedly calls the primal "Tidus" until corrected several quests later.
References
Edit