Tiamat (Final Fantasy XII)
Talk

0
13,960 pages on
this wiki
Final Fantasy XII Boss
Tiamat
ティアマット (Tiametto)

Statistics
Level
25
HP
MP
49,993
999
Strength
Magic
34
24
Defense
Mag Def
16
14
Vitality
Speed
74
12
Attack
Evade%
40
0
EXP
LP
0
15
CP
Gil
4,730
0

Bestiary Location
Bosses
Location
Henne Mines (Ore Separation)
Common Steal
Hi-Potion
Uncommon Steal
Ring Wyrm Scale
Rare Steal
Leo Gem
Common Drop
None
Uncommon Drop
None
Rare Drop
None
Very Rare Drop
None
Monograph Drop
None
Canopic Jar Drop
None
Common Poach
None
Rare Poach
None
Attacks
Regular attack, may Petrify
Abilities
Aero, Reflect, Disablega, Rake, Breath
Innate abilities
Safety, Null Knockback, Focus, Last Stand, Attack Plus, Defense Plus
Immune to
Death, Petrify, Stop, Doom, Sleep, Disease, Reverse, Disable, Immobilize, Silence, Blind, Poison, Sap, Lure, Warp, Fractional Damage, Sight Unseeing, Syphon, Numerology, Charm, Achilles, Wither, Addle
Other Information
Libra is ineffective.
Tiamat is a boss in Final Fantasy XII. It is a wyrm-type boss fought at the end of the Henne Mines. Vaan and party travel there in search of Fran's sister, Mjrn. When they finally find her, she has become mad due to a natural viera intolerance to high concentrations of Mist, in this case from exposure to manufacted nethicite, and had awakened Tiamat from its slumber. Also it is fought in the International Zodiac Job System trial mode at stage 13.
Bestiary Entry
Edit
Page 1: Observations
Edit
"Being a dragon awakened by Fran's sister, Mjrn, in a Mist-frenzy. Ancient tomes describe it as an anima of the winds, possessed of a violent temperament and destructive power enough to lead the entire world to ruin. There are some who believe that Tiamat was responsible of the decimation of the imperial troop performing experiments on manufactured nethicite, having been awakened by the Stones' fell cry."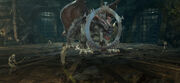 An average party level of 18 is recommended, and above level 25, Tiamat should not present too much of a difficulty. Larsa will be a guest and the player should try to keep him alive, as he will use infinite Hi-Potions to heal other party members. When the party is spread out it is more difficult for Tiamat to use area attacks. Characters equipped with ranged weapons tend to spread out more than those who are not. Characters low on health and near Larsa, prompt Larsa to use Hi-Potions to heal them.
Support buffs like Shell, Protect, and Regen are recommended. Quickenings should be used only when Tiamat's health becomes critical, as its Defense heightens as its HP decreases, making regular attacks less effective. Tiamat's Disablega will Disable all characters in range, which can only be cured with an Esuna spell or Remedies.
Tiamat's Breath ability also inflicts Sap on contact. Having the party well-spaced should prevent all characters from being disabled at once. It is best not to use a Gambit strategy that causes the characters to heal constantly. Tiamat deals heavy damage, and if the characters are constantly healing, they will not be attacking Tiamat. One good strategy is to use the Decoy magick on Larsa. This means Tiamat will only attack him meaning the other party members can keep attacking Tiamat and Larsa will keep healing himself with his infinite supply of items.
Montblanc will give 900 gil for defeating Tiamat.
Other Appearances
Edit
Tiamat also returns in Final Fantasy XII: Revenant Wings as a summon.
Related Enemies
Edit