Tiamat (Final Fantasy VIII)
Talk

18
16,064 pages on
this wiki
Tiamat
ティアマト (

Tiamato

?)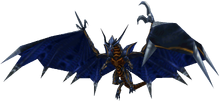 Statistics
Level
HP
Level
HP
1
21,200
58
89,600
STR
MAG
STR
MAG
57
62
172
174
VIT
SPR
VIT
SPR
81
4
138
119
SPD
EVA
SPD
EVA
20
20
20
20
EXP
AP
EXP
AP
0
30
0
30
See also: Tiamat
Tiamat is an optional boss in Final Fantasy VIII, encountered in the Clocktower of Ultimecia Castle in the game's final stages. It is arguably the strongest of Ultimecia's eight minions. Tiamat resembles Bahamut and uses a similar move. The Scan description indicates Tiamat was once a Guardian Force but was turned evil under Ultimecia's power.
Tiamat will elevate higher into the air and begin counting down to its signature move, D-A-R-K-F-L-A-R-E, is an upgraded version of Bahamut's Mega Flare which deals heavy damage regardless of the characters' Spirit stat. It is a Fire elemental attack.
In the game's American and European versions Eden can be drawn from Tiamat if the player did not draw the GF from Ultima Weapon earlier.
Characters can increase their elemental defense against Fire (such as by junctioning Fire or Flare to Elem-Def) to reduce, nullify or absorb damage from Dark Flare. The battle can be made extremely easy by junctioning the characters to absorb Dark Flare, as Tiamat will be unable to kill the party, Dark Flare being its only attack.
Related Enemies
Edit