Tiamat (Final Fantasy IX)
Talk

6
13,961 pages on
this wiki
Final Fantasy IX Enemy
Tiamat
ティアマト (Tiamato)
Statistics
Level
HP
MP
72
59,494
3,381
Strength
Defense
Evade
25
45
7
Magic
M. Defense
M. Evade
25
10
9
Attack
Spirit
Speed
92
45
49
EXP
AP
Gil
0
10
8,820
| | |
| --- | --- |
| Location | Memoria |
| Class | Dragon |
| Steal | Blood Sword, Feather Boots, Grand Helm |
| Item Dropped | Wing Edge, Phoenix Down, Ether, Elixir |
| Card Dropped | None |
| Abilities | Absorb Magic, Absorb MP, Absorb Strength, Float, Jet Fire, Silent Claw, Snort, Twister |
| Status Immunity | Petrify, Zombie, Stop, Heat, Mini, Venom, Death, Poison, Freeze, Darkness, Confuse, Regen, Vanish, Trouble, Berserk, Float, Doom |
| Eat | {{{Eat1}}} |
| Other Information | {{{Other Information1}}} |
Tiamat
ティアマト (Tiamato)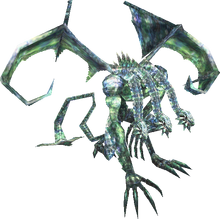 Statistics
Level
HP
MP
71
24,127
3,338
Strength
Defense
Evade
25
45
7
Magic
M. Defense
M. Evade
25
10
9
Attack
Spirit
Speed
90
45
49
EXP
AP
Gil
0
7
2,956
Tiamat
ティアマト (Tiamato)
Statistics
Level
HP
MP
{{{level3}}}
{{{HP3}}}
{{{MP3}}}
Strength
Defense
Evade
{{{Strength3}}}
{{{Defense3}}}
{{{Evade3}}}
Magic
M. Defense
M. Evade
{{{Magic3}}}
{{{Magic Defense3}}}
{{{Magic Evade3}}}
Attack
Spirit
Speed
{{{Attack Power3}}}
{{{Spirit3}}}
{{{Speed3}}}
EXP
AP
Gil
{{{Exp3}}}
{{{AP3}}}
{{{Gil3}}}
| | |
| --- | --- |
| Location | {{{Location3}}} |
| Class | {{{Class3}}} |
| Steal | {{{Steal3}}} |
| Item Dropped | {{{Win3}}} |
| Card Dropped | {{{Card3}}} |
| Abilities | {{{Attack3}}} |
| Status Immunity | {{{Status3}}} |
| Eat | {{{Eat3}}} |
| Other Information | {{{Other Information3}}} |
Tiamat
ティアマト (Tiamato)
Statistics
Level
HP
MP
{{{level4}}}
{{{HP4}}}
{{{MP4}}}
Strength
Defense
Evade
{{{Strength4}}}
{{{Defense4}}}
{{{Evade4}}}
Magic
M. Defense
M. Evade
{{{Magic4}}}
{{{Magic Defense4}}}
{{{Magic Evade4}}}
Attack
Spirit
Speed
{{{Attack Power4}}}
{{{Spirit4}}}
{{{Speed4}}}
EXP
AP
Gil
{{{Exp4}}}
{{{AP4}}}
{{{Gil4}}}
| | |
| --- | --- |
| Location | {{{Location4}}} |
| Class | {{{Class4}}} |
| Steal | {{{Steal4}}} |
| Item Dropped | {{{Win4}}} |
| Card Dropped | {{{Card4}}} |
| Abilities | {{{Attack4}}} |
| Status Immunity | {{{Status4}}} |
| Eat | {{{Eat4}}} |
| Other Information | {{{Other Information4}}} |
"So? Which one of you will perish first?"
—Tiamat
See also: Tiamat.
Tiamat is a boss from Final Fantasy IX. He is first seen on disc 3 when Vivi and Steiner visit the Wind Shrine. Tiamat is fought off screen and referred to as Wind Guardian. He is presumably defeated by the two.
Tiamat later appears as an enemy in the Memoria. He is the second Guardian of Terra to be fought, and appears in the room with a representation of the Invincible where the player can pick up the Rune Claws, a powerful weapon for Amarant. In the Crystal World, a crystal version of Tiamat exists.
Tiamat is slightly stronger than Maliris. Its Twister attack deals Wind-elemental damage. It will drain MP and lower the party's magic and strength stats, so an extended fight puts the party at a disadvantage. Tiamat's Jet Fire attack will put everyone in Heat status. If a character with the Float status attacks Tiamat physically, he will counter with Snort, which will remove the character from the battlefield. Tiamat is vulnerable to Sleep and Silence.
Equipping items with protection from Aero is useful as well as Body Temp and MP Attack. Protection against the Heat status via Body Temp is ideal, but waiting for the status to lift will work fine. Quina can cast Night every turn to put Tiamat to sleep and the other party members can attack. It is also possible to throw a Tent at Tiamat which has a 50% chance of inflicting Silence on him, which will make the fight easier.
This crystalline dragon is weaker than its flesh-and-bone cousin. Perhaps the greatest boon to the party is the absence of the Float and Snort spells, which ensures all four members will remain in the battle. This Tiamat is highly vulnerable to myriad status ailments. The player should equip the Dragon Killer ability on the melee attackers and cast Ice magic. Quina can learn Twister by eating the crystal Tiamat.
Related Enemies
Edit