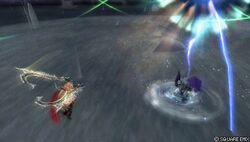 Thunderfall (天鳴万雷, Tenmei Banrai?, lit. Heavenly Cry) is a recurring ability in the series. Originally an ability used by Odin, it has since become an ability associated with Lightning.
Appearances
Edit
XIII Thunderfall is a Gestalt Mode ability for Odin that deals lightning damage to all enemies and launches them into the air. It costs 4 ATB points.
Dissidia012 Thunderfall is an aerial HP attack for Lightning, obtained at level 37. It requires 40 CP to equip (20 when mastered), 300 AP to master, can induce Wall Rush, has Melee High priority on the blades while having Ranged High priority on the lightning, and deals physical damage with the blades while dealing magical damage with the lightning. Lightning spins her swords to create bolts of lightning that damage and lift the opponent off of the ground, then slam them back down. The swords can damage the opponent at close-range, but do no HP damage.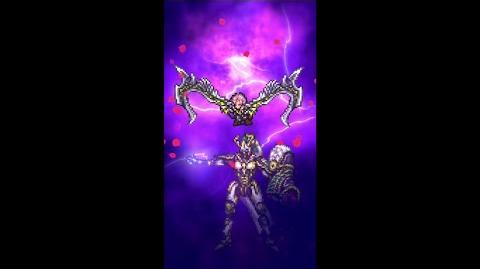 Thunderfall serves as Lightning's Overstrike Soul Break, learnt from the sword Gladius (XIII). Lightning and Odin combine in a flourish of rose petals and a flash of lightning to strike for massive thunder/non-elemental damage, breaking the damage cap.
Etymology
Edit
[view · edit · purge]Thunder is the sound caused by lightning. Depending on the distance and nature of the lightning, thunder can range from a sharp, loud crack to a long, low rumble (brontide).