Three Stars (Item)
Talk

0
16,123 pages on
this wiki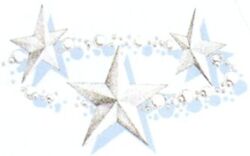 "Necklace with three star-shaped bangles on its chain. Reduces the MP cost of all magic to 1."
—Description, Final Fantasy VI.
The Three Stars (スリースターズ, Surī Sutāzu?), also known as the Celestriad or Economizer, is a recurring item used to reduce the MP cost of magic and skills.
Appearances
Edit
Also known as the Economizer in the SNES and PlayStation releases, the Celestriad is a relic that makes all magic spells, lores, and summons cost 1 MP.
An easy way of obtaining multiple Celestriads is to equip Gogo with three Steal abilities, give him/her the Aegis Shield, and give him/her the Brigand's Glove and Safety Bit relics. Betting a Murakumo in the Dragon's Neck Coliseum will put the player in a fight against Galypdes, an otherwise rare enemy in the Phoenix Cave. Gogo will repeatedly mug the Galypdes, stealing either a Phoenix Down, or, if the player is lucky, a Celestriad. Upon winning the fight, the player wins a Holy Lance, which the player can bet to fight a Death Machine to obtain a new Murakumo, starting the cycle over.
Another way of obtaining a Celestriad is an item drop from Brachiosaur.
Betting the Celestriad will reward the player with a Dragon Horn after defeating a Vector Chimera. The Celestriad can also be won by betting the Soul of Thamasa and defeating the Behemoth King
| | |
| --- | --- |
| Effect | Reduces party's MP cost for skills and spells to 0. Also negates HP loss from Dark Knight's Darkness ability. |
| Buy in | N/A |
| Find in | N/A |
| Steal from | N/A |
| Won from | N/A |
| Bribe From | Omega Weapon |
| Other | N/A |
| Cost | N/A |