Cid:

Oh, shut up and help me remodel the The Malice Within page!

Please expand this article into a full one. More details can be found, and this request can be discussed, on the associated

discussion page

.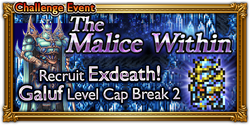 The Malice Within (宿りし邪悪な意思, Yadorishi Jaaku na Ishi?, lit. The Resident Evil Will) was a continuous Challenge Event in Final Fantasy Record Keeper. Players conducted a speed run within the Realm of Final Fantasy V in order to confront the dark warlock Exdeath. Part 1 was a race through the separate worlds of Planet R, while Part 2 covered its Merged World. Lenna, Galuf, and Faris returned to battle, as did Exdeath's bumbling second-in-command Gilgamesh. Krile also returned in the final Bonus Quest of the game's third wave. In the global release, the event ran from February 16 to February 26, 2016 (UTC)*This event was interrupted while the transition to the fourth wave was in progress (Feb 17-18)..

This article or section is a stub about Final Fantasy Record Keeper. You can help the Final Fantasy Wiki by expanding it.
Ad blocker interference detected!
Wikia is a free-to-use site that makes money from advertising. We have a modified experience for viewers using ad blockers

Wikia is not accessible if you've made further modifications. Remove the custom ad blocker rule(s) and the page will load as expected.