Cid:

Oh, shut up and help me remodel the Tenketsu page!

Please expand this article into a full one . This request can be discussed on the associated discussion page. Remove this notice upon completion.
Relm:

I couldn't miss the chance to practice my drawing!

This article is in need of a few pictures. Perhaps you can help by uploading a picture.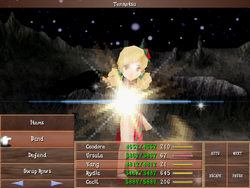 Tenketsu (てんけつ, Tenketsu? or 点穴, Ten'ana?, lit. Pressure Points), also known as Pressure Point, is a recurring ability in the Final Fantasy series.
Appearances
Edit
FFIVTAY Tenketsu is the exclusive ability of Ursula, which attempts to strike an enemy's weakpoint with a casting time of 3 while ignoring the target's Defense. It is automatically learned during the battle with the Adamantoise. There are four variants to the ability; one which deals a normal physical attack, one that deals an automatic Critical Hit, one that deals elemental damage to the enemy's weakness, and one that that instantly kills the target.
BD Pressure Point is a job level 11 ability for the Monk. It ignores the target's physical defense and deal 2 times the damage of a conventional attack to one target. It costs 1 BP to use.
BS Pressure Point is the job level 8 command ability for the Monk. It allows the user to deal a powerful physical attack that ignores the target's P.Def. It costs 1 BP to use.
FFRK Pressure Point is an ability found in the Monk school of the Other skillset. As a rarity rank 4 ability, it requires Greater Power Orbs + Greater Dark Orbs to create or hone, starting with two charges and having a maximum of ten charges. It deals damage equal to 150% of the user's normal damage output with a chance to KO the target.
Etymology
Edit
A pressure point derives from the meridian points in Traditional Chinese Medicine, and in the field of martial arts, and refers to an area on the human body that may produce significant pain or other effects when manipulated in a specific manner.