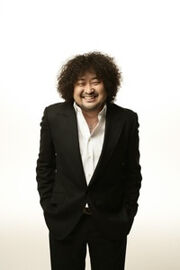 Taro Hakase (葉加瀬 太郎, Hakase Tarō) is a Japanese musician and renowned violinist. Born in Suita, Osaka, he has performed since 1997 with his debut album Watashi, and have released a number of albums. He has also performed live in front of audiences and collaborated with other artists. In international spotlight, he is known to have performed the violin for Celine Dion's "To Love You More" in her album Let's Talk About Love.
Within the Final Fantasy community, he is known for his performance in Symphonic Poem "Hope", an album released in 2006 to complement the release of Final Fantasy XII. The songs featured were played during the game's credits and jointly composed with Yuji Toriyama.
External links
Edit
Ad blocker interference detected!
Wikia is a free-to-use site that makes money from advertising. We have a modified experience for viewers using ad blockers

Wikia is not accessible if you've made further modifications. Remove the custom ad blocker rule(s) and the page will load as expected.