I think the Viera in the opening video is a male. It definitely looks like a male, and it has black hair instead of white or silver.
I found this...
Edit
I summon thee, Mydia!!
Edit
Red King problem
Edit
Good point, but why in the heck would they call them that in the first place. the only good reason for that is a mistranslation or accidental typing. The mission sounds more like The Five Monarchs to me (I seen the Blue King before and how is the Green King tougher than the Red or Blue ones). --UndyingvsSephiroth 18:20, 30 August 2008 (UTC)
Saethori (T / C) — 20:24, October 30, 2009 (UTC)
Believe in the future, and persist in the present, that's what I'll do!
Because the computer cheats. Same thing with all the non-Viera with Blood Price.
Out of all the races in the FF series, Viera have to be my favourite. The fact they're rabbit/human hybrids is awesome.
118.210.147.47 07:32, November 7, 2009 (UTC)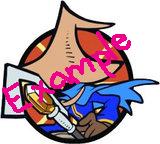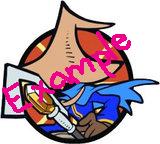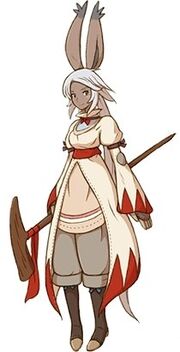 and also viera are good how they are :)
Once and for all
Edit
I think the reason we never see any male viera is due to artistic licence, as they must look absolutely ridiculous with their bunny ears and high heels and long fingernails. Saying that they live in a separate village you never visit is good enough, I think.
Do the Garif have any females, for that matter? Keltainentoukokuu 19:51, June 26, 2010 (UTC)Keltainentoukokuu
Shouldn't we mention somewhere on the page that vieran (is that an adjective?) names are always composed of four letters, or is it already mentioned but I can't see it?—Kaimi >♂

-

-

-

10:28, April 30, 2012 (UTC)
What about Mydia? Though Feol Viera may be different...Keltainentoukokuu 12:30, April 30, 2012 (UTC)
Considering Feol Viera are not full-blooded viera, the same rule (if there is one) might not apply. It could go in Trivia, since it's only a small piece of information based on opinions so far. Tia-Lewise

13:53, April 30, 2012 (UTC)
This post says viera have silver hair and dye them if they live with Humes. Where is this verified?? If it is somewhere, it should probably be added as a citation. In FFTA, Shara talks about white (not silver) being absolutely pure, and consequently very rare. What's more, coloured hair of the viera is in all sorts of places, not just "with humes". So I wonder if an Ultimania said that they dye it if they live with humes too long, and explicitly called it "silver". -- Confused Moogle
In the opening FMV of Ashe and Rasler's wedding you see viera in Rabanastre with brown hair, but other than that every viera in FFXII has white hair. Maybe someone extrapolated from this small detail. Anyway, I'd remove it if this is the best support for it.Keltainentoukokuu (talk) 19:25, June 29, 2015 (UTC)

Found where the "silver hair" and "dye" thing originates: it was in the gallery all along:

. Now I wonder where the "veena viera" and "rava viera" thing is from, then. I don't think fair-skinned viera exist outside of feol viera in Revenant Wings since everyone appears surprised to see white-skinned viera there.Keltainentoukokuu (talk) 19:45, June 29, 2015 (UTC)