This
talk page
is used for discussing improvements to the page
"Bravely Second: End Layer"
. It is not the place for general discussion or sharing stories about the topic of this article.
Yeah, I'll admit that the page isn't as neat as I'd like it to be, but I started it because it is kinda better to have a page ready for the stuff. I haven't edited a page on wikia on an iPad until now, as I normally do it on a computer, and more used to the newer version of the wiki page editing system. Again, I apologise both for my rambling, and the quality of the page.
TMG- Why? (talk) 23:15, December 5, 2013 (UTC)

Please can someone create the Magnolia Arch page please? I just feel that we can create a page for her, and then develop it as we get more info. I would do it, but I'm not the best editor. TMG- Why? (talk) 21:50, December 9, 2013 (UTC)
We don't have enough data about her for her to get her own page just yet. We need some more information: several smaller and each with some new bit than a previous info, or one big, extensive information about her.—Kaimi (999,999 CP/5 TP) ∙ 22:51, December 9, 2013 (UTC)
Nintendo Direct Bravely Second Trailer
Edit
https://www.youtube.com/watch?v=Xh7SaqHHwus
Found a new trailer for the Game that was on the Japanese Nintendo Direct today. It has got some new info (Including a new weapon class) TMG- Why? (talk) 15:08, August 29, 2014 (UTC)
Pastry Chef
Edit
There was some information about the Pastry Chef in this video.
http://mobile.siliconera.com/all/2015-02-04-bravely-second-will-decide-jobs-story#1/media/2
They fight by throwing cakes that cause status effects at enemies, and setting brandy on fire in order to do fire damage. Best class ever! :D
TMG- Why? (talk) 22:10, February 6, 2015 (UTC)
Returning Asterisks
Edit
Silconera revealed the returns of the Jackal, Chairman Profiteur, and Holly Whyte.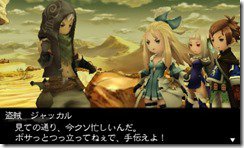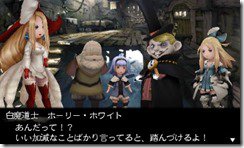 Therefore, I think we should add the Thief, Merchant, and White Mage asterisks to this page.
In the most recent trailer for the game, the Job changing screen is shown, and several more jobs revealed as a result. The logos for Freelancers, Black Mages, Summoners, Monks, Knights, Swordmasters, Time Mages, White Mages, Red Mages, Thieves, Swordmasters, Performers, Merchants, Valkyries and Pirates are shown in this screenshot along with the logos for Astrologer (?), Cat Master, Tomohawk and Pastry Chef. That is 19/30 classes available in the game (21 if you also remember that the Exorcist and Guardian are also in the game)
That means that there are 9 spaces left if there are 30 jobs in the game (Read that number somewhere, and confirmed by the amount of slots in BS' job changing screen). Previous jobs missing are:
Spiritmaster, Dark Knight, Arcanist, Templar, Conjurer, Vampire, Ninja, Spell Fencer, Ranger and Salve-Maker.
That's 10 jobs. 9 slots left.
Return of the Ba'als
Edit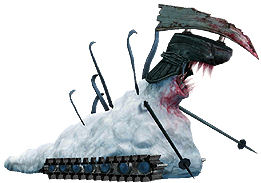 Ba'als make a comeback in Bravely Second! As of now, Turtle Dove and Goldie will return, and two new Ba'als will make an appearence as well- Sea Urchin and White Mountain.
It's been 2 and a half years
Edit
http://www.gonintendo.com/s/251513-bravely-second-latest-live-stream-recording-info-summary-q-a
Asano said it's been 2 and a half years since Default.
GotMilk5101520 (talk) 23:01, April 21, 2015 (UTC)
Does anybody knows how the Japanese manual treats ages for characters from Bravely Default in Bravely Second? Does it add 2, 2.5, or 3 years, or doesn't specify them? Because on Tiz Arrior's page we have 3 years added, Agnès Oblige and Edea Lee's pages 2 years added, for Ringabel who knows, and for other characters still alive and have known ages, I don't know.—Kaimi (999,999 CP/5 TP) ∙ 19:29, June 10, 2015 (UTC)
Level of coverage
Edit
This needs to be asked, because when we voted on the level of coverage BD would get, it was only for the first game and didn't automatically include BS (see [[1]]). What level of coverage is Bravely Second supposed to get? Based on the existence of character articles and so on, that would mean that BS is currently treated under First-tier coverage (and is also listed in the Scope page as such). It does not qualify by default based on the conditions set out for first-tier games in Scope, so why does it automatically gain tier 1 status? Is it simply because people don't want to work on a separate wiki for that game? --Arciele Spira (talk) 09:00, June 11, 2015 (UTC)
Direct sequels get the same coverage as the first game I think.Keltainentoukokuu (talk) 11:40, June 11, 2015 (UTC)

funny. this was exactly what the discussion said would not be presumed.--Arciele Spira (talk) 02:51, June 20, 2015 (UTC)
Is it "Bravely Second" or "Bravely Second: End Layer"? I see two different names used for categories. Can we please settle on one, for consistency's sake?—Kaimi (999,999 CP/5 TP) ∙ 21:57, March 1, 2016 (UTC)