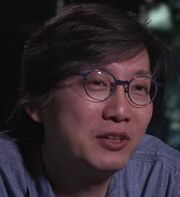 Takatsugu Nakazawa is a Japanese video game designer who has been working for Square since 1994. He is the system designer of Final Fantasy XV (2016). He was also the battle director of Final Fantasy X-2 (2003) and Crisis Core -Final Fantasy VII- (2007).
Nakazawa created the draw system used in Final Fantasy VIII (1999).[1][2] He would later evolve this system into the Phantoma system used in Final Fantasy Type-0 (2011).
Works within the series
Edit
References
Edit
Ad blocker interference detected!
Wikia is a free-to-use site that makes money from advertising. We have a modified experience for viewers using ad blockers

Wikia is not accessible if you've made further modifications. Remove the custom ad blocker rule(s) and the page will load as expected.