Relm:

I couldn't miss the chance to practice my drawing!

This article is in need of a few pictures. Perhaps you can help by uploading and adding a picture or two.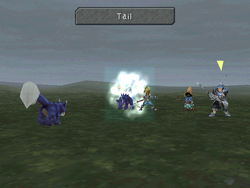 Tail (しっぽ, Shippo?), also known as Tail Hammer and Tail Attack, is a recurring enemy ability in the series. A non-elemental physical attack, the severity of damage it inflicts has varied through the series, and in some appearances Tail can inflict negative status effects.
Appearances
Edit
V Tail, used by the Bone Dragon, Desertpede, Leviathan, Mythril Dragon, Stray Cat, White Serpent and Wyrm, deals moderate physical damage to one party member.
VI Tail, used by the Sand Ray, Peeper, Knotty and Dragon, deals weak physical damage to one party member. Knotty's Tail attack can also inflict Imp.
VII Tail, used by the Bagrisk (sometimes twice in one turn) and the Shred, deals physical damage to one party member.
VIII Tail, used by Cerberus and T-Rexaur, inflicts non-elemental physical damage with a 100% Critical Hit rate when under Triple status.
IX Tail, used by the Axolotl, Feather Circle, Griffin and Mu, deals weak physical damage to one party member.
X Tail is an enemy ability used by the Behemoth King. It deals moderate non-elemental damage to the entire party.
XIII Tail Hammer, used by the Ushumgal Subjugator (first encounter) and Tiamat Eliminator, deals moderate physical damage to party members in range. Tiamat Eliminator's Tail Hammer may inflict Imperil.
VS Tail Attack, used by the Dragon, Earth Dragon, Sky Dragon, Snow Dragon, Arch Dragon, Flame Dragon, Dark Dragon and Dragon Zombie, deals physical damage.
FFMQ Tail, used by the Snipion, has an attack power of 5 and inflicts physical damage.
FFL Tail is an ability that has 10 uses and has an attack power of 6 which damages one enemy, the damage formula is base on Agility. This ability is used by Gecko, Siren, Crawler, Behemoth, Hydra, Nue, LavaWorm, Naga, Dinosaur, Scylla, Lilith, SandWorm, GigaWorm, Lamia, Leviathn, and Sei-Ryu2.
FFL2 Tail is a special attack that has 30 uses, it also increases a Robot's HP by 9. The damage formula for Tail is the user's Agl x8. This attack can be used by Dinosaur, Dolphin, GigaWorm, Gunfish, Komodo, Lamia, LavaWorm, Leviathn, Lilith, Medusa, Naga, Piranha, SandWorm, Scylla, Shark, Worm, and Wyrm.
FFL3 Tail inflicts physical damage to one party member and this ability can be used by numerous monsters: Worm, Ray, Gargoyle, LandWorm, Scorpion, GigaWorm, Young-D, Remora, D.Bone, Hunter, D.Fossil, BoltRay, Garuda, Warrior, Medusa, Fish Man, Lamia, Merman, Naga, Nix, Scylla, Selkie, Echidna, Gill Man, and Ballor.
Ad blocker interference detected!
Wikia is a free-to-use site that makes money from advertising. We have a modified experience for viewers using ad blockers

Wikia is not accessible if you've made further modifications. Remove the custom ad blocker rule(s) and the page will load as expected.