Syldra
Talk

0
13,972 pages on
this wiki
Syldra (シルドラ, Shirudora?), also known as Hydra, is a character and summon from Final Fantasy V. She is Faris Scherwiz's childhood friend.
Appearances
Edit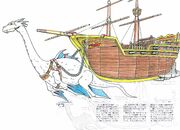 Years before the start of the game, when a young Faris fell overboard, Syldra saved her. Faris quickly became friends with the giant beast. When she became captain of the pirates who rescued her, she used Syldra to help out constantly. It was thanks to Syldra she was able to sail her ship when the wind died. However, the ship is attacked by Karlabos, and Syldra is separated from the party.

Later, Syldra saves the party from the sinking Walse Tower. However, in doing so, Syldra dies, causing Faris to break down.
Upon visiting the Pirates' Hideout in the third world, Faris sees the spirit of Syldra in the cove. Bartz and Lenna do not see anything, but Krile, who can not only see but understand Syldra, tells Faris that even in death, Syldra wants to help. These words comfort Faris, and the party is given Syldra to summon.
Syldra is a level 4 summon and deals an attack called Thunderstorm, which does Wind-elemental damage to all enemies. When boosted with the Air Knife or Magus Rod, Syldra can deal almost as much damage as Bahamut, for half the MP cost.
In the Anthology release, Hydra is referred to as male.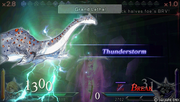 Syldra makes an appearance as a summon in Dissidia 012. When summoned, Syldra's Thunderstorm will instantly negate any other summon ability that takes effect over a period of time or takes time to charge up, such as Shiva, Leviathan, or Tonberry. Summons that take effect instantly are unaffected. She can be purchased from certain Moogle Shops for 120 KP.
Additionally, there is a trade accessory called "Syldra Spine".
Syldra appears in the Trading Card Game representing the element of Wind.
Non-Final Fantasy AppearancesEdit
Syldra is a card in Dragon Quest & Final Fantasy in Itadaki Street Portable.