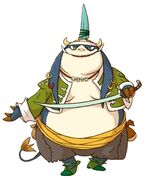 The Swordking is a seeq Viking in Final Fantasy Tactics A2: Grimoire of the Rift. He boasts of being indomitable but that is only because he turns anyone who opposes him to stone. He appears in the quest "Show of Strength", and travels with two bangaa, a Defender, and a Templar. They immobilize and disable his target. Swordking and his group are encountered by Ghi Yelgi and Clan Gully. When he is finally defeated, he turns himself to stone with his sword.
Ad blocker interference detected!
Wikia is a free-to-use site that makes money from advertising. We have a modified experience for viewers using ad blockers

Wikia is not accessible if you've made further modifications. Remove the custom ad blocker rule(s) and the page will load as expected.