Sunken Ship
Talk

0
13,959 pages on
this wiki
Relm

: I couldn't miss the chance to practice my drawing!
This article is in need of a few pictures. Perhaps you can help by

uploading

and adding a picture or two.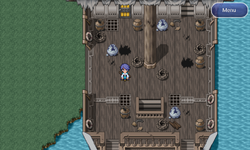 Sunken Ship is a ship in Final Fantasy Dimensions. It looks to be abandoned but strangely seems to be functional, at the least. It contains suitable living quarters for the party to rest. It is located directly north of the Crystal Temple. Upon commandeering the ship to another area, it is then located to the south of Mount Verde.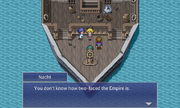 As the party makes their way out of Crystal Temple, they discover a damaged ship to the north. Nacht notices it's still functional so he commandeers the vessel, despite the protests of Glaive and Diana regarding their missing companions. While the vessel is afloat, Glaive notices how different the world has become, with Diana commenting on the fact that the party must be bewitched. Alba mentions how curious the situation has become, prompting Glaive to mention how odd she's acting, considering he just saw her try to steal the Crystal. Alba denies any misgivings regarding the prior situation at the Crystal Temple, citing the Empire to blame for the act. Diana is bewildered by Alba's claim because of her prior knowledge of Lux and Avalon having an alliance, with Nacht mentioning how the Empire is two-faced. After encountering and defeating some Bloodsuckers, Nacht realizes the steering wheel has become stuck and as a result, the ship just drifts with the party in tow.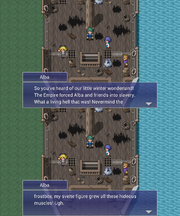 Fortunately, the party survives the ordeal and reaches land, with Alba remarking on how they must be on Imperial Lands and that its much better than being at Harmonia. Glaive notices her comment about Harmonia and Alba sarcastically expands on the fact that her svelte figure got ruined by the muscles she developed over there, much to Diana's surprise. Still bewildered by Avalon's betrayal, Diana is consoled by Glaive who tells her that Nacht and Alba are simply vagrants who cannot be trusted. Nacht, unfazed by Glaive's accusations, nonchalantly leaves the vessel, followed by Alba. Diana realizes the reality of their situations and convinces Glaive to accompany the other two to find their lost companions. Glaive reluctantly agree with Diana's statements and the two jump off the vessel, wondering where their missing friends have gone. As the party leaves the ship, they see a nearby mountain towards the north and continue their journey upwards, thusly beginning their ascent of Mount Verde.

| Item | Place |
| --- | --- |
| Ether | Chest (climb down the stairs of the sunken ship and enter the room to the right, it's the one on the left) |
| Potion | Chest (climb down the stairs of the sunken ship and enter the room to the right, it's the one in the middle) |
| Phoenix Down | Chest (climb down the stairs of the sunken ship and enter the room to the right, it's the one on the right) |
| 1500 gil | Chest (climb down the stairs of the sunken ship and enter the room to the left, it's the one on the left) |
| Antidote | Chest (climb down the stairs of the sunken ship and enter the room to the left, it's the one on the right) |
Enemy Formations
Edit