DissidiaNT In the arcade version of Dissidia Final Fantasy, right after entering the multiplayer mode, a screen allows players to choose the summon they prefer, and then the summon with more votes is the chosen.
Like the previous Dissidia Final Fantasy games, each player can summon once in battle; however, the summon mechanics are different this time, because the player is invoking the actual summon into the battlefield rather than an artwork. This summon will act like a party member during a few seconds, and will support the party with "summon effect". Each of the summons attacks depletes the bravery gauge to zero, so it's easy to afflict the Break status to the enemy team.
To invoke a summon, each party must fill the summon gauge by attacking the enemies (which fills the gauge slowly) or by destroying one Summon Core (which fills half of the gauge) and then at least one party member has to charge the gauge manually. This process lasts 8 seconds if only one player is doing it, 4 seconds if two party members are doing it, or is automatic if all the party members charge the gauge at the same time.
List of summons
Edit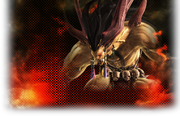 Ifrit, the Hell's Fire, is a beast-like summon which can control fire. This summon can be quite aggresive and prefers to attack the powerful enemies in the battlefield. He is one of the five summons that was available by default when the game was launched.
Abilities
Edit
Skill name
Type
Effects
Warcry
Permanent effect
Enhances guard break capability by 50%
Meteor Strike
Post-Summon effect
Enhances the damage dealt by Bravery attacks by 20%
Rush
Summon attack
A high-speed fire element attack that makes Ifrit while moving on a straight line.
Power: 1040
Drop Attack
Summon attack
Ifrit falls directly from the sky to the position of one enemy, then causes an explosion by punching the ground.
Power: 160 (fall) + 960 (explosion)
Hellfire
Summon attack
A giant fireball consumes everything in the area surrounding Ifrit.
Power: 1920
Shiva, the Icy Queen, is a human-like summon which can control ice. This summon can attract the attention of the fighters and help the bravest of them all. She is one of the five summons that was available by default when the game was launched.
Abilities
Edit
Skill name
Type
Effects
Overflow
Permanent effect
Enhances the bravery recovery speed by 500%
Algid Aura
Post-Summon effect
Base bravery increases by 300
Ice Dance
Summon attack
Shiva flies on the air making a straight line of ice pillars which then transform into a floor-type trap that stuns everyone who steps on it.
Power: 1040
Cloister of Frost
Summon attack
A huge pillar of ice is generated in the position of one enemy, then it transforms into a floor-type trap which freezes anyone who steps on it.
Power: 1040
Diamond Dust
Summon attack
A series of glowing ice circles track the enemy, causing damage if touched; and after 8 seconds a giant pillar of ice surges from it.
Power: 160 (circles of ice) + 1760 (pillar of ice)
Ramuh has an uncanny intellect, a pointed glare, and a shroud of lightning. His gift governs the use of all-buffing EX skills.
Abilities
Edit
Skill name
Type
Effects
High Voltage
Permanent effect
Increase buff duration by 10% (non-exclusive buffs only)
Catalyzing Spark
Post-Summon effect
Lowers buff Ex skill cooldown for every 4 hits landed (non-exclusive Ex skills only)
Thunderstorm
Summon attack
Rains thunderbolts on one or multiple enemies
Power: 1040
Judgment Bolt
Summon attack
Three lightning bolts encircle each individual enemy until closing in on them in a huge explosion
Power: 160+1760
Though prideful, this knight has the skill to back up his claims and cleave his detractors. Odin's blessing imparts speed equal to the sword he swings.
Abilities
Edit
Skill name
Type
Effects
Greased Lightning
Permanent effect
Increase dash gauge recovery by 25%
Bladeglint
Post-Summon effect
Increase maximum dash gauge by 25%
Hofudo
Summon attack
Odin rushes in a straight line, slashing all enemies in his path
Power: 1040
Gungnir
Summon attack
Glowing purple markers appear on the ground then shortly after lances of dark energy fall from above
Power: 1040
Zantetsuken
Summon attack
A field of dark energy surrounds Odin before he slashes in every direction
Power: 1920
Born of the vast ocean depths, this monstrosity can douse foes with aqueous orbs. Its ill humors make for more powerful debuff Ex skills.
Abilities
Edit
Skill name
Type
Effects
Tidal Roar
Permanent effect
Increase debuff duration by 10%
Sheer Misery
Post-Summon effect
Lowers debuff Ex skill cooldown for every 4 hits landed (non-exclusive Ex skills only)
Bubble Orb
Summon attack
Spawns a cluster of water orbs around one or multiple enemies that slowly home in
Power: 752
Tsunami
Summon attack
Leviathan circles around an area creating a twister of water that then explodes
Power: 1920
He is a walking fortress of light that purifies a wide swath of land almost instantly. His sacred powers, however, also shores up player's defenses.
Abilities
Edit
Skill name
Type
Effects
Providence
Permanent effect
Increases max HP by 100
Divine Bulwark
Post-Summon effect
Increases defense by 20%
Normal Attack 1
Summon attack
Magic runes on the ground appear before multiple enemies that then explodes into pillars of light that slowly stalks their target
Power: 1040
Normal Attack 2
Summon attack
A huge magic rune appears in the sky above an enemy which then bombards then with multiple missiles
Power: 1040
Divine Judgment
Summon attack
Several rows of magic runes appear all over the battlefield, these quickly explode upward into tall pillars of light
Power: 1920
This prodigious dragon shrewd mind is almost as impressive as the searing fire he breathes. That and how his presence enhances players' unique Ex skills.
Abilities
Edit
Skill name
Type
Effects
Frenzied Bellow
Permanent effect
Increases unique Ex skill gauge gain.
Divine Bulwark
Post-Summon effect
Increases unique Ex skill effect duration.
Megaflare
Summon attack
Bahamut shoots several beams of energy at multiple targets that slowly stalk them before creating a huge explosion
Power: 1920