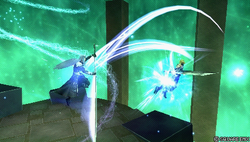 Sudden Cruelty (居合い斬り, Iaigiri?, lit. Quick-Draw/Re-sheath Cutter), also known as Draw Slash, is a recurring ability in the series. It is an attack used exclusively by Sephiroth.
Appearances
Edit
FFVIICC Draw Slash is an enemy ability used by Sephiroth and Experiment No. 124. It inflicts moderate non-elemental physical damage and knocks Zack to the ground.
Dissidia Sudden Cruelty is an aerial physical Bravery attack for Sephiroth, obtained at the start of the game. It requires 30 CP to equip (15 when mastered), 180 AP to master, has Melee Low priority, and can induce Chase. Sephiroth attacks the opponent with two sword slashes that hits the opponent multiple times.
Dissidia012 Sudden Cruelty returns as a Bravery attack for Sephiroth, now requiring 100 AP to master. It is otherwise identical as in the previous game.
Ad blocker interference detected!
Wikia is a free-to-use site that makes money from advertising. We have a modified experience for viewers using ad blockers

Wikia is not accessible if you've made further modifications. Remove the custom ad blocker rule(s) and the page will load as expected.