Stone III
19,947 pages on
this wiki
Talk

0
Relm:

I couldn't miss the chance to practice my drawing!

This article is in need of a few pictures. Perhaps you can help by uploading a picture of Stone III in Final Fantasy XI..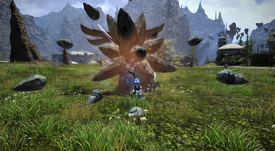 Stone III (ストーンIII, Sutōn III?) is a recurring spell in the Final Fantasy series, appearing only in the online installments of the series. It is an upgraded version of the Stone spell.
Appearances
Edit
Stone III is a tier 3 Black Magic spell in Final Fantasy XI. An upgraded version of the Stone II spell, it deals Earth-based elemental damage to a single target. It can be purchased from vendors in Lower Jeuno and Aht Urhgan Whitegate for 19,932 gil. It can also be found on several mid-to-high-level Black Mage-type beastmen enemies.
Stone III appears in Final Fantasy XIV as a White Mage ability and can be learned after completing the "Girl with the Dragon Tissue" level 54 job quest. The ability deals earth-elemental damage with a potency of 210 to a single enemy. The ability has a cast time of 2.5 seconds and a recast time of 2.5 seconds.
In the Japanese version of the game, Stone III is called Stonega.