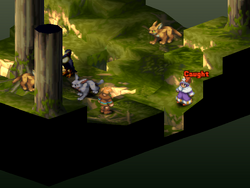 Sticky Fingers (必ずぬすむ or キャッチ, Kanarazu Nusumu or Kyacchi?, lit. Certainly Steal or Catch), also known as Snakebite, Bandit, or Catch, is a recurring ability in the Final Fantasy series, which generally involves stealing items at an easier rate.
Appearances
Edit
The ability is never named in-game, but it is the ability of the Thief's Bracer relic (called Sneak Ring in the original version). This relic doubles the success rate of Steal.
The Bandit ability is a support ability for Zidane learned from the Mythril Dagger and the N-Kai Armlet, it guarantees that a Steal command successfully hits the target (still doesn't guarantee the actual steal is successful). It takes 40 AP to master, and requires five Magic Stones to equip.
Sticky Fingers is a job ability for the Thief dressphere, which guarantees a successful first steal. The ability is less useful should the character already use Steal or Master Thief beforehand. Sticky Fingers takes 120 AP to learn and Pilfer HP must be learned first. It takes 20 MP to cast.
Sticky Fingers, called Catch in the PlayStation version, is a reaction ability. The Thief class learns it for 200 JP. The character equipped with this ability will catch any item Thrown at him. The effectiveness of this technique depends on the character's Bravery.
Catch is a reaction ability and allows a unit to catch and keep any item thrown at them. The viera Red Mage and moogle Juggler both learn catch for 300 AP from the Chain Mail armor.
As in Tactics Advance, Sticky Fingers lets the player catch items thrown at them learned by the Juggler and Red Mage classes for 250 AP from the Brigandine.
Seven's card has the Catch ability. The player must discard a Seven card and pay a Wind CP to select a Special Ability or Auto Ability and nullify its effects.
Etymology
Edit
It is also called "Bandit." [view · edit · purge]Banditry is the life and practice of bandits. The New English Dictionary on Historical Principles (NED) defined "bandit" in 1885 as "one who is proscribed or outlawed; hence, a lawless desperate marauder, a brigand: usually applied to members of the organized gangs which infest the mountainous districts of Italy, Sicily, Spain, Greece, Iran, and Turkey.