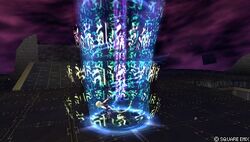 Stellar Circle 5 (ストラサークル5, Sutora Sākuru 5?, lit. Sutra Circle 5) is a recurring ability in the series. It is a Limit Break-esque ability associated with Zidane Tribal.
ストラ (sutora?) would not be a typical way to transliterate "sutra", however this is likely the intended meaning as the text that appears in the circle resembles sanskrit.
Appearances
Edit
Stellar Circle 5 is a Dyne ability usable by Zidane while in Trance and while having access to the skill Annoy. It costs 24 MP to use and inflicts non-elemental damage to one enemy equal to 250% of Zidane's normal physical attack.
Stellar Circle 5 is a ground HP magic attack for Zidane, learned at level 31. It requires 180 AP to master and 40 CP to equip (20 when mastered), has Melee High priority, and has the Absorb effect. When used, the ability can draw in the opponent into it to damage them.
Stellar Circle 5 is a HP attack for Zidane, learned at level 12 and requiring 130 AP to master and 30 CP to equip (15 when mastered). It otherwise functions identically to its previous incarnation.
Stellar Circle 5 is a Bravery attack for Zidane. It consists of a 3 hit melee BRV attack with a low chance of inflicting SPD Down I to the target for 3 turns and SPD Up I to Zidane. It has a high turn rate.
Stellar Circle 5 is the Ultimate of Thief of Tantalus job.
Etymology
Edit
[view · edit · purge]Sutra (IAST: sūtra सूत्र) is a Sanskrit word that means "string" or "thread". A sutra is a rule or thesis in Sanskrit grammar or Hindu law or philosophy, or a scriptural narrative, especially a discourse of the Buddha.