Stella Nox Fleuret
Talk

35
13,972 pages on
this wiki
Balthier: I'm afraid the jury's still out on that one.
This article is about a character from a game that's still to be released. As such, some of the information might be inaccurate or likely to change.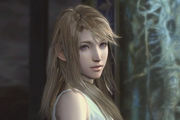 Stella Nox Fleuret (ステラ・ノックス・フルーレ, Sutera Nokkusu Furūre?) is a character in Final Fantasy Versus XIII. Little is currently known about Stella, except that she meets Noctis at a party, and they share some sort of connection. Although the two do not wish to fight each other, they are forced to do battle as a result of unknown circumstances.
Stella is a member of the Fleuret family, and resides in the land of Tenebrae.
Appearance and Personality
Edit
Stella has long, layered golden-blonde hair with a side-swept bang and purple eyes. In the trailer shown at the DKS3713 event, Stella wears silver stud earrings, an open short-sleeved white cardigan over a black corset-like top with a frilled black skirt and black knee-high boots.
According to director Tetsuya Nomura, she is apparently extremely wealthy. Stella is shown to have an honest and very polite attitude, but she is assertive and true to her beliefs as a result of her proper upbringing. As demonstrated in the Tokyo Game Show footage, she does not like to shy away from her problems and is very direct, as opposed to Noctis who is shown to be more reserved. According to Nomura, Stella will "stand out" in some way from the other female characters in the series.
Abilities and Equipment
Edit
In battle, Stella wields a rapier and upon brandishing it, a large, winged crest forms behind her, similar to how Noctis summons his weapons. It is speculated that she can also summon different types of weapons, similar to Noctis.
It is vaguely hinted that Stella has a power related to the legends of Etro and the Kingdom of the Dead through a near-death experience earlier in her life, a power also said to be shared with Noctis.
Creative Director of Roen and clothing designer for Final Fantasy Versus XIII, Hiromu Takahara designed the cocktail dress and ankle boots worn by Stella during her conversation with Noctis.
Etymology
Edit
Stella Nox are two Latin words that would mean, albeit incorrectly inflected, "Night Star". Fleuret is the French name for a fencing foil, an obvious reference to Stella's shown weapon of choice. Stella also means "Star" in Italian.
Hiromu Takahara originally wanted her dress to be black, but the production team changed the color to create a greater contrast with the black suit Noctis wears in the same scene.