Stardust (Item)
Talk

0
13,960 pages on
this wiki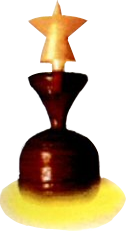 "Sand that sparkles like the night sky. Many scholars insist it is not of this world."
—Description, Final Fantasy XII: Revenant Wings.
Stardust (星の砂, Hoshi no Suna?) is a recurring item in the series, and is usually associated with casting the Black Magic spell Comet.
Appearances
Edit
Stardust did not appear in the original SNES title, but has showed up since the PlayStation version.
The Stardust item returns and functions the same as in the original Final Fantasy IV.
Stardust is a rare offensive item that casts the spell Comet2.
"A fine dust that glitters like stars in the night sky. Some natural philosophers believe the dust to have actually blown down to us from the stairs themselves."
—Description
Stardust is a piece of loot that sells for 1,505 gil and which can be stolen from Spee and poached from Wyrdhare. Selling two Stardusts yields a Pheasant Netsuke at the Bazaar, an accessory that doubles the potency of healing items.
Stardust is a Low-ranked Material that can be obtained through Destiny In The Stars, Monster Melee (Dalmasca Estersand), Dalmascan Treasure, and bought in the Material Shop from Chapter 8 onwards.