Star Pendant
Talk

0
13,959 pages on
this wiki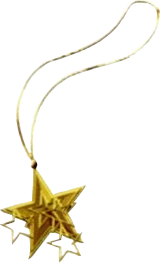 "Star-shaped pendant with a jewel at its center. Prevents poison."
—Description, Final Fantasy VI.
The Star Pendant (星のペンダント, Hoshi no Pendanto?) is a recurring accessory in the Final Fantasy series. It usually provides protection against Poison.
Appearances
Edit
The Star Pendant is a relic which protects against Poison, and can be bought in South Figaro in either world, or in Nikeah in the World of Ruin for 500 gil.
The Star Pendant can be bought in Gongaga Village for 4000 gil, found in Shinra Headquarters, and Mt. Corel, or won from Motor Ball.
The Star Pendant prevents Poison and adds 20 to the Spirit stat. It can be purchased for 3,000 gil at from Research Dept. QMC or Nibel Accessories. It is also obtained from Zack's supply pod in Chapter 3.
The Star Pendant can be bought in various shops throughout Spira during the game for 4,000 gil. It can also be acquired from finding it in the Gagazet Ruins during Chapter 1, winning it from Boris, Aculeate, or Taromaiti, stealing it from Aculeate or King Takouba, or bribing Assassin Bee, Mycotoxin, Haunt, or Archaeothyris.
The Star Pendant is listed under the "Neck" series of equipment, only offering a modest Charisma boost and small Dark/Light resistances.
Star Pendant is an accessory that grants resistance to Poison by 30% to 45%, depending on its level, and can be upgraded to the Starfall Pendant by using the Perovskite item. The Star Pendant can also be bought from B & W Outfitters in the Retail Network for 3,000 Gil.
The Star Pendant is an accessory that increases a wearer's resistance to poison by 66%. It can be found or purchased from Chocolina for 650 gil. Its equipment cost is 55 points.