Final Fantasy X-2 Enemy
Stalwart
ディフェンダー (Difendā)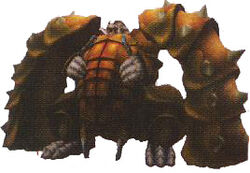 Armor
Statistics
Level
HP
MP
30
1,240
175
Strength
Magic
Defense
75
142
42
M. Defense
Agility
Accuracy
13
36
8
Evasion
Luck
0
0
EXP
AP
Gil
122
1
100
Location
Kilika Woods
Thunder Plains
Via Infinito Floors 4 - 6
Chapters
1, 2, 5
Common Steal
Phoenix Down
Rare Steal
Gauntlets
Gil Steal
630
Common Drop
Phoenix Down x2
Rare Drop
Shadow Gem
Common Bribe
Shadow Gem x30
Rare Bribe
Shadow Gem x40
Abilities
Body Splash
Blue Bullet
None
Status Resist
Petrification (100), Confusion (50), Eject (32), Zantetsu (15)
Status Immunity
Death, Sleep, Silence, Darkness, Poison, Berserk, Curse, Slow, Stop, Defense Down, Magic Def Down, Doom, Delay, Preparation Interruption, Multiple Damage
Other Information
N/A
Stalwart
ディフェンダー (Difendā)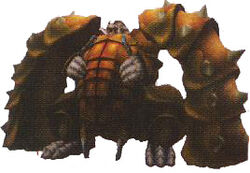 Armor
Statistics
Level
HP
MP
36
1,312
175
Strength
Magic
Defense
75
142
42
M. Defense
Agility
Accuracy
13
46
8
Evasion
Luck
0
0
EXP
AP
Gil
202
2
210
Location
Kilika Woods
Thunder Plains
Via Infinito Floors 4 - 6
Chapters
1, 2, 5
Common Steal
Diamond Gloves
Rare Steal
Diamond Gloves
Gil Steal
980
Common Drop
Black Ring
Rare Drop
Black Ring
Common Bribe
Rare Bribe
Black Ring
Abilities
Blizzard, Blizzara, Blizzaga, Body Splash, Dispel, Fire, Fira, Firaga, Holy, Reflect, Thunder, Thundara, Thundaga, Water, Watera, Waterga
Blue Bullet
None
Status Resist
Petrification (100), Eject (38), Zantetsu (15)
Status Immunity
Death, Sleep, Silence, Darkness, Poison, Confusion, Berserk, Curse, Slow, Stop, Defense Down, Magic Def Down, Doom, Delay, Preparation Interruption, Multiple Damage
Other Information
N/A
Normal: "A fiend encased in thick armor. Its strength, defense and other attributes are all formidable. It can't be having much fun with all that armor weighing it down."
Oversoul: "A fiend encased in thick armor. It now also uses magic, courtesy of oversouling. That's three more yucky points for the ugly giant."
— Scan
Stalwart is an enemy from Final Fantasy X-2. A relatively powerful enemy, and even more dangerous when in Oversoul. It is best to hit him with the party's strongest attacks. Having Shell or Reflect when in Oversoul is ideal, as it has a large arsenal of magic at its disposal, including the deadly Holy.
Stalwart can be obtained by placing a Large Pod in Kilika or Thunder Plains during Chapters 1 and 2. The fiend's Fiend Tale shows it trying to be a member of the "Lightning Brigade", a Sphere hunting group. Stalwart is accepted into the team as an apprentice after the team captain encounters a back problem, though Stalwart is largely a server for the group.
When Stalwart is released, it can be encountered in Standard Cup Hard or Grand Cup Hard tournaments, where it can use the Blue Bullet ability Storm Cannon.
Stalwart Coin
Coin No.
32
Coin Value
4
Trait
Multiplier Echo
Location
Found in the Eastern or Northern Expanses of the Bikanel Desert.
==Other appearances--

This article or section is a stub about an enemy in Final Fantasy Record Keeper. You can help the Final Fantasy Wiki by expanding it.
Related enemies
Edit
Ad blocker interference detected!
Wikia is a free-to-use site that makes money from advertising. We have a modified experience for viewers using ad blockers

Wikia is not accessible if you've made further modifications. Remove the custom ad blocker rule(s) and the page will load as expected.