Spr Up
Talk

0
13,964 pages on
this wiki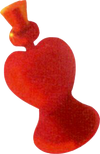 Spr Up, also known as Mind Source, is a recurring item in the series. It permanently increases a character's Spirit stat by +1, and is thus a very rare item in the games it appears in.
Appearances
Edit
Mind Source can be found in Junon and Mythril Mine. In Junon, it can only be gotten more of through morphing Serpent and Killbin.
Spr Up can be stolen once from Norg Right Pod, and can only be obtained afterwards through refining 10 Magic Armlets into 1 Spr Up.