Ad blocker interference detected!
Wikia is a free-to-use site that makes money from advertising. We have a modified experience for viewers using ad blockers

Wikia is not accessible if you've made further modifications. Remove the custom ad blocker rule(s) and the page will load as expected.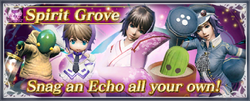 The Spirit Grove is a place to find all manner of costumes to personalize your Echo, or even to switch her out with another, completely different spirit! All it takes is one SPirit Ticket to claim a new friend to call your own!
—Description.
Spirit Grove is a Shop option in Mobius Final Fantasy. By exchanging Spirit Tickets the player can acquire new looks for Echo, some of which are time-limited.
Echo's looks
Edit
| Name | Image | Description | Availability |
| --- | --- | --- | --- |
| Echo | | A spirit who seems overly attached to Wol. | Initial |
| Mini Echo | | A PR move to gain positive karma? | Unlimited |
| Officer Echo | | She likes giving orders. As usual. | August 3 - August 31, 2016 |
| Cactuar | | It looks comfy in its pot. | Unlimited |
| Prim Echo | | She just looks prim, she's just as abrasive as always. | August 3 - August 31, 2016 |
| Tonberry | | Other people may bear a grudge if you have this. | Unlimited |
| Beach Echo | | Always bet on black. | August 13 - August 31, 2016 |
| Vacationer Echo | | Obviously not a water spirit. | August 13 - August 31, 2016 |
| Resort Echo | | Ready for the summer! | August 13 - August 31, 2016 |
| Tropical Echo | | An esoteric combination of colors. | August 13 - August 31, 2016 |
| PuPu | | A strange creature from outer space. | Reward |
| UFO | | A high-tech spacecraft with a fashionable retro look. | Reward |