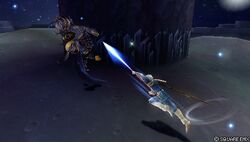 Spiral Blow (スパイラルブロウ, Supairaru Burou?) is a recurring ability in the series.
Appearances
Edit
FFIVTAY Spiral Blow is a Band ability for Kain and Golbez, learned as an event ability. It deals damage to one enemy with the power reliant on Kain's Jump for 22 MP.
Dissidia012 Spiral Blow is a ground physical Bravery attack for Kain, learned at the start of the game. It requires 30 CP to equip (15 when mastered), 100 AP to master, has Melee Low priority, and can induce Wall Rush. Kain charges forward with a single jab, knocking the opponent away.