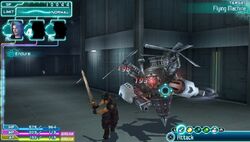 Spin Attack (スピンアタック, Supin Atakku?), also known as Spinning Attack, is a recurring ability in the series. It is generally a non-elemental physical attack that hits all targets in a party.
Appearances
Edit
VII Spin Attack is an ability used by Jersey which inflicts non-elemental physical Hit damage to one target.
FFVIICC Spin Attack is an ability used by Flying Machine, Heli Gunner, Sky Armor, and Sky Gunner, which deals multiple non-elemental physical hits.
FFXIIRW Spin Attack is an ability used by Bwagi, which deals non-elemental damage to all surrounding enemies.
XIII Spin Attack is an ability used by Barbed Specter, Mushussu, and Triffid, which deals moderate physical damage to character and may inflict Curse, Deprotect, Deshell, or Poison, depending on the enemy.
BD Spin Attack is an ability used by Land Turtle and Mythril Shell, which inflicts high non-elemental physical damage and ignores the target's Defense.
Dissidia012 Spinning Attack is an aerial physical Bravery attack for Prishe, initially obtained at the start of the game. It requires 20 CP to equip (10 when mastered), 150 AP to master, has Melee Low priority, and has Absorb. Prishe infuses her fists with fire, then spins upwards. The ability can also be used as a Bravery attack follow-up, and requires 10 CP to equip (5 when mastered).