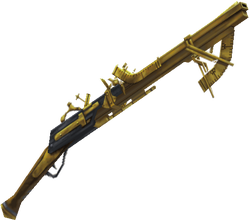 The Spica (スピカ, Supika?), also known as Spica Defenders, is a recurring weapon in the series.
Appearances
Edit
XII Spica is a high-ranked gun that requires the Guns 4 License in order to equip (Guns 5 in the Zodiac versions). It provides 34 attack and 5% critical, and can be bought for 13,000 gil at Balfonheim Port.
In the Zodiac versions, it now provides 38 Attack, 10 Evade, 50 CT, 5% critical rate and requires the Guns 5 license for 90 LP. It can be bought in Balfonheim Port for 11,000 gil, found as a treasure in Feywood (The Edge of Reason), poached from Shadonir (5% chance), or from the bazaar for 8,900 gil after selling Ichthon Scale x4, Silver Liquid x5, and Wind Crystal x7. It can be equipped by the Machinist and Shikari.
XIII The Spica Defenders appear as Sazh's weapon.
Dissidia012 Spica is a level 60 gun that provides -248 HP, +59 Bravery, +49 Attack, and -1 Defense. It can obtained from the shop by trading 90,880 gil.
Etymology
Edit
[view · edit · purge]Spica is the brightest star in constellation Virgo and the 15th brightest star in the night time sky.