Sphinxaur
スフィンクス (

Sufinkusu

?)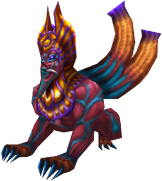 Statistics
Level
HP

10000

Level
HP

10000

1
10,000
19
10,000
STR

([6(Lv)] + [(Lv) / 5] - [(Lv)² / 300] + 12) / 4

MAG

([4(Lv)] + [(Lv) / 60] - [(Lv)² / 500] + 10) / 4

STR

([6(Lv)] + [(Lv) / 5] - [(Lv)² / 300] + 12) / 4

MAG

([4(Lv)] + [(Lv) / 60] - [(Lv)² / 500] + 10) / 4

4
3
32
21
VIT

((Lv) / 15) - (Lv) + (Lv) + 8

SPR

((Lv) / 4) - [(Lv) / 3] + (Lv) + 60

VIT

((Lv) / 15) - (Lv) + (Lv) + 8

SPR

((Lv) / 4) - [(Lv) / 3] + (Lv) + 60

8
61
9
77
SPD

((Lv) / 2) - [(Lv) / 10] + 6

EVA

((Lv) / 10) - [(Lv) / 20]

SPD

((Lv) / 2) - [(Lv) / 10] + 6

EVA

((Lv) / 10) - [(Lv) / 20]

6
0
14
1
EXP

0

AP
EXP

0

AP
0
0
0
0
Sphinxaur
スフィンクス (

Sufinkusu

?)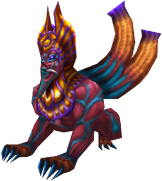 Statistics
Level
HP

10000

Level
HP

10000

20
10,000
29
10,000
STR

([6(Lv)] + [(Lv) / 5] - [(Lv)² / 300] + 12) / 4

MAG

([4(Lv)] + [(Lv) / 60] - [(Lv)² / 500] + 10) / 4

STR

([6(Lv)] + [(Lv) / 5] - [(Lv)² / 300] + 12) / 4

MAG

([4(Lv)] + [(Lv) / 60] - [(Lv)² / 500] + 10) / 4

33
22
47
31
VIT

((Lv) / 15) - (Lv) + (Lv) + 8

SPR

((Lv) / 4) - [(Lv) / 3] + (Lv) + 60

VIT

((Lv) / 15) - (Lv) + (Lv) + 8

SPR

((Lv) / 4) - [(Lv) / 3] + (Lv) + 60

9
79
9
87
SPD

((Lv) / 2) - [(Lv) / 10] + 6

EVA

((Lv) / 10) - [(Lv) / 20]

SPD

((Lv) / 2) - [(Lv) / 10] + 6

EVA

((Lv) / 10) - [(Lv) / 20]

14
1
18
1
EXP

0

AP
EXP

0

AP
0
0
0
0
Sphinxaur
スフィンクス (

Sufinkusu

?)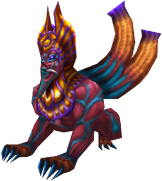 Statistics
Level
HP

10000

Level
HP

10000

30
10,000
50
10,000
STR

([6(Lv)] + [(Lv) / 5] - [(Lv)² / 300] + 12) / 4

MAG

([4(Lv)] + [(Lv) / 60] - [(Lv)² / 500] + 10) / 4

STR

([6(Lv)] + [(Lv) / 5] - [(Lv)² / 300] + 12) / 4

MAG

([4(Lv)] + [(Lv) / 60] - [(Lv)² / 500] + 10) / 4

48
32
78
51
VIT

((Lv) / 15) - (Lv) + (Lv) + 8

SPR

((Lv) / 4) - [(Lv) / 3] + (Lv) + 60

VIT

((Lv) / 15) - (Lv) + (Lv) + 8

SPR

((Lv) / 4) - [(Lv) / 3] + (Lv) + 60

10
87
11
106
SPD

((Lv) / 2) - [(Lv) / 10] + 6

EVA

((Lv) / 10) - [(Lv) / 20]

SPD

((Lv) / 2) - [(Lv) / 10] + 6

EVA

((Lv) / 10) - [(Lv) / 20]

18
2
26
3
EXP

0

AP
EXP

0

AP
0
0
0
0
| Lv | HP | STR | MAG | VIT | SPR | SPD | EVA | EXP |
| --- | --- | --- | --- | --- | --- | --- | --- | --- |
| 1 | 10000 | 4 | 3 | 8 | 61 | 6 | 0 | 0 |
| 2 | 10000 | 6 | 4 | 8 | 62 | 7 | 0 | 0 |
| 3 | 10000 | 7 | 5 | 8 | 62 | 7 | 0 | 0 |
| 4 | 10000 | 9 | 6 | 8 | 64 | 8 | 0 | 0 |
| 5 | 10000 | 10 | 7 | 8 | 65 | 8 | 0 | 0 |
| 6 | 10000 | 12 | 8 | 8 | 65 | 9 | 0 | 0 |
| 7 | 10000 | 13 | 9 | 8 | 66 | 9 | 0 | 0 |
| 8 | 10000 | 15 | 10 | 8 | 68 | 10 | 0 | 0 |
| 9 | 10000 | 16 | 11 | 8 | 68 | 10 | 0 | 0 |
| 10 | 10000 | 18 | 12 | 8 | 69 | 10 | 1 | 0 |
| Lv | HP | STR | MAG | VIT | SPR | SPD | EVA | EXP |
| --- | --- | --- | --- | --- | --- | --- | --- | --- |
| 11 | 10000 | 20 | 13 | 8 | 70 | 10 | 1 | 0 |
| 12 | 10000 | 21 | 14 | 8 | 71 | 11 | 1 | 0 |
| 13 | 10000 | 23 | 15 | 8 | 72 | 11 | 1 | 0 |
| 14 | 10000 | 24 | 16 | 8 | 73 | 12 | 1 | 0 |
| 15 | 10000 | 26 | 17 | 9 | 73 | 12 | 1 | 0 |
| 16 | 10000 | 27 | 18 | 9 | 75 | 13 | 1 | 0 |
| 17 | 10000 | 29 | 19 | 9 | 76 | 13 | 1 | 0 |
| 18 | 10000 | 30 | 20 | 9 | 76 | 14 | 1 | 0 |
| 19 | 10000 | 32 | 21 | 9 | 77 | 14 | 1 | 0 |
| 20 | 10000 | 33 | 22 | 9 | 79 | 14 | 1 | 0 |
| Lv | HP | STR | MAG | VIT | SPR | SPD | EVA | EXP |
| --- | --- | --- | --- | --- | --- | --- | --- | --- |
| 21 | 10000 | 35 | 23 | 9 | 79 | 14 | 1 | 0 |
| 22 | 10000 | 36 | 24 | 9 | 80 | 15 | 1 | 0 |
| 23 | 10000 | 38 | 25 | 9 | 81 | 15 | 1 | 0 |
| 24 | 10000 | 39 | 26 | 9 | 82 | 16 | 1 | 0 |
| 25 | 10000 | 41 | 27 | 9 | 83 | 16 | 1 | 0 |
| 26 | 10000 | 42 | 28 | 9 | 84 | 17 | 1 | 0 |
| 27 | 10000 | 44 | 29 | 9 | 84 | 17 | 1 | 0 |
| 28 | 10000 | 45 | 30 | 9 | 86 | 18 | 1 | 0 |
| 29 | 10000 | 47 | 31 | 9 | 87 | 18 | 1 | 0 |
| 30 | 10000 | 48 | 32 | 10 | 87 | 18 | 2 | 0 |
| Lv | HP | STR | MAG | VIT | SPR | SPD | EVA | EXP |
| --- | --- | --- | --- | --- | --- | --- | --- | --- |
| 31 | 10000 | 50 | 33 | 10 | 88 | 18 | 2 | 0 |
| 32 | 10000 | 51 | 34 | 10 | 90 | 19 | 2 | 0 |
| 33 | 10000 | 53 | 35 | 10 | 90 | 19 | 2 | 0 |
| 34 | 10000 | 54 | 36 | 10 | 91 | 20 | 2 | 0 |
| 35 | 10000 | 56 | 37 | 10 | 92 | 20 | 2 | 0 |
| 36 | 10000 | 57 | 38 | 10 | 93 | 21 | 2 | 0 |
| 37 | 10000 | 59 | 39 | 10 | 94 | 21 | 2 | 0 |
| 38 | 10000 | 60 | 40 | 10 | 95 | 22 | 2 | 0 |
| 39 | 10000 | 62 | 40 | 10 | 95 | 22 | 2 | 0 |
| 40 | 10000 | 63 | 41 | 10 | 97 | 22 | 2 | 0 |
| Lv | HP | STR | MAG | VIT | SPR | SPD | EVA | EXP |
| --- | --- | --- | --- | --- | --- | --- | --- | --- |
| 41 | 10000 | 65 | 42 | 10 | 98 | 22 | 2 | 0 |
| 42 | 10000 | 66 | 43 | 10 | 98 | 23 | 2 | 0 |
| 43 | 10000 | 68 | 44 | 10 | 99 | 23 | 2 | 0 |
| 44 | 10000 | 69 | 45 | 10 | 101 | 24 | 2 | 0 |
| 45 | 10000 | 71 | 46 | 11 | 101 | 24 | 2 | 0 |
| 46 | 10000 | 72 | 47 | 11 | 102 | 25 | 2 | 0 |
| 47 | 10000 | 74 | 48 | 11 | 103 | 25 | 2 | 0 |
| 48 | 10000 | 75 | 49 | 11 | 104 | 26 | 2 | 0 |
| 49 | 10000 | 76 | 50 | 11 | 105 | 26 | 2 | 0 |
| 50 | 10000 | 78 | 51 | 11 | 106 | 26 | 3 | 0 |
Sphinxaur is a boss from Final Fantasy VIII, encountered in the Entry Hall of Ultimecia Castle. It is the first of the sorceress's eight minions the party is likely to fight. Once 10,000 of Sphinxaur's HP is removed, its form will change into Sphinxara.
The battle is fought in two stages. Sphinxaur casts level three magic at the party, which can be negated with the proper elemental junctions, so this half of the battle should pose little problems. Physical attacks is likely the only form of damage the party can inflict upon Sphinxaur, but this should pose little threat to a moderately developed party.
Etymology
Edit
[view · edit · purge]A sphinx is a mythical creature with the body of a lion and a human head. In Greek tradition it is a female with the haunches of a lion, sometimes with the wings of a great bird, and the face of a human, and is mythicised as treacherous and merciless; those who cannot answer her riddle are killed and eaten. Unlike the Greek sphinx, the Egyptian sphinx is typically shown as a man and viewed as benevolent. Both were thought of as a guardian often flanking entrances to temples.
Related enemies
Edit