Thunder Blade (Ability)
Talk

0
13,964 pages on
this wiki
Relm

: I couldn't miss the chance to practice my drawing!
This article is in need of a few pictures. Perhaps you can help by

uploading

and adding a picture or two.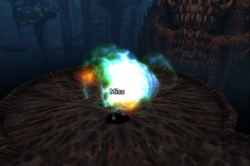 Thunder Blade, also known as Thunder Slash (雷鳴剣, Raimeiken?), Thunder Sword (サンダー剣, Sandā Ken?), Electric Blitz, Sparkstrike, Stormblade, Lightning Blade, and Bolt Sword, is a recurring ability in Final Fantasy. It is always a Lightning-elemental attack to one target, and is mainly attributed with the ability Spellblade.
Appearances
Edit
Thunder Sword is a level one Spellblade that can be used by Mystic Knights. It can be used for 2 MP, and is mastered for 20 AP.
Thunder Blade is a Command Materia and ability in Crisis Core -Final Fantasy VII-. First Zack lifts his sword then cleaves it from left to right, dealing small physical damage and the Thunder spell to a enemy. Thunder Blade does moderate damage against Water-based enemies. It is a Level 1 Command Materia.
There is a Sword Art that can be used by Steiner called Thunder Slash, which is supposed to deal Lightning-elemental damage equal to 19% of one target's HP, costing 24 MP, but due to a glitch, it misses almost every time. Thunder Slash can be learned for 30 AP by the Defender and Ragnarok. Thunder Slash will never work on bosses.
The damage formula for Thunder Slash is as follows:

Additionally, Thunder Sword can be used by Steiner when he is paired with Vivi in a party.
Thunder Blade, learned from Warrior dressphere, is a Lightning-elemental attack to one target. It requires 20 AP to learn and 4 MP to cast.
The Ravager role has an ability called Sparkstrike, learned by only Lightning, Sazh, and Fang. It costs one ATB gauge segment and deals physical and lightning damage to a target.
Stormblade is one Lightning's special attacks while riding Odin in Gestalt Mode.
Sparkstrike returns as a Ravager ability with a cost of 1 ATB segment. An area version known as Electric Blitz is also present in the game, but is known only to 2 monsters. Both abilities cannot be infused into other monsters.
Sparkstrike and Electric Blitz can be learned by playable characters and monsters at different role levels:
Sparkstrike: Serah (level 7), Noel (45), Lightning (1), Valfodr (5), Albino Lobo (15), Circuitron (5), Apotamkin (10), Grand Behemoth (1), Pleuston (36), and Pink Lily (38), and Zwerg Scandroid (1).
Electric Blitz: Lightning (level 4), and Grand Behemoth (63).
Bolt Sword is learned by Gladiators and deals Lightning-elemental damage to one target. It is learned from the Air Blade for 200 AP, and costs 10 AP. Bolt Sword has a Weapon Attack Power of 54 and is also susceptible to Absorb MP.
Thunder Assault is an ability of the Gladiator, learned for 300 AP through the Air Blade and having a range of 1, costing 4 MP to use.
Thunder Slash appears as a Fusion Ability.

Thunder Slash is the ability that is used by Steiner during battle.