Spark
Talk

0
13,966 pages on
this wiki
Relm

: I couldn't miss the chance to practice my drawing!
This article is in need of a few pictures. Perhaps you can help by

uploading

and adding a picture or two.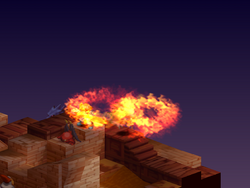 "Attack the area with spreading flames."
—Description, Final Fantasy Tactics.
Spark (スパーク, Supāku?), also known as Aerospark or Thunderspark, is a recurring enemy spell in the Final Fantasy series. As its name implies, it is usually a Lightning-elemental attack, but at other times is non-elemental.
Appearances
Edit
Spark is the name of the summon spell used to call Ramuh into battle.
Aerospark is a command that can be used by Ixion. It inflicts physical damage and removes Reflect, Regen, Haste, Auto-Life, Protect, Shell, and NulAll. It is a Rank 4 ability, leaving a longer recovery time than an ordinary attack would.
Aerospark is used in Belgemine's Ixion, resulting in the same effect. During the first battle with Dark Ixion, Dark Ixion will use Aerospark as its Overdrive, however, in the second battle, Dark Ixion will use it as a normal attack.
Aerospark is used by Ixion. The effect is different to its form in Final Fantasy X and functions as a Gravity spell, removing five-eighths of the target's current HP.
Thunderspark is one of Ramuh's Blood Pacts. It inflicts Lightning damage on targets in an area of effect and has a chance to cause Paralysis. Obtained at level 19, the Pact requires 38 MP to cast.
Spark is an attack used by Ramuh. It does minor Lightning-elemental damage.
Spark is used by Exploder. It does Fire-elemental damage in a small radius and heals the user.
Spark is an enemy ability, used by the Grenade, that inflicts non-elemental damage to all surrounding units and restores the user's HP.
Aerospark is one of Yuna's Bravery attacks. She summons Ixion to charge forward and knock the opponent into the air, then fire several disks of lightning at them to begin a Chase Sequence. Yuna learns Aerospark at Level 27, it costs 30 CP to equip and 80 AP to master.