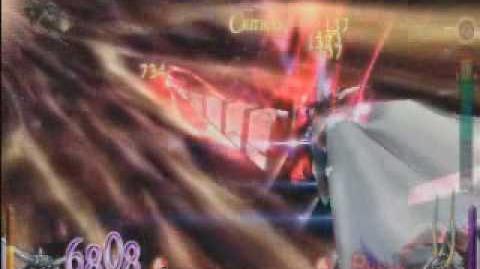 Soul of Chaos (ソウルオブカオス, Souru obu Kaosu?), also known as Vagrant Soul, is a recurring ability in the series. It acts as a Limit Break ability for Garland.
Appearances
Edit
Soul of Chaos is the ultimate attack for all versions of Chaos in the Alphascape V1.0 raid. The attack deals unaspected damage to all party members. The damage of the attack is dependent on the amount of Dark Aether Chaos consumes while the Dark Crystal enemy is out on the field. Should the player fail to complete the damage check and allow Chaos to consume 100 points of Dark Aether, the party will instantly be defeated by the attack.
Soul of Chaos was a neutral-elemental summon attack of the Garland eidolon in the original free-to-play versions of the game.
The attack dealt heavy non-elemental damage to a single enemy three times and required 3 bars from the summon gauge to use. Due to the Garland summon being removed in the premium version of the game, the ability was also removed.
Soul of Chaos is the EX Burst for Garland, where he knocks his foe back and raises his sword. The player must press

repeatedly to fill a meter on the screen as Garland charges energy. If filled, Garland will repeatedly attack his opponent with twin swords, hits them several times with the chain, stabs them with the spear, then swings his axe downwards hitting the opponent multiple times. He ends the EX Burst by spinning to unleash two powerful sword blows.
Soul of Chaos returns as Garland's EX Burst in an unchanged form.
Soul of Chaos is a unique gimmick that rewards the player by playing offensively by increasing their attack power the longer amount of time they attack. The Soul of Chaos status has two variations, the first increases attack power by an average of 9.375% (1.09375 times), while the second stage increases attack power by an average of 15.625% (1.15625 times), respectively. Though this may increase attack power, the status wanes if the character is not attacking.
Soul of Chaos is an enemy ability used by Cursed Garland and Cursed+ Garland. It inflicts non-elemental physical damage to seven random targets.
Vagrant Soul is 5★ Garland's Limit Burst.
Etymology
Edit
The ability is named after the set of four dungeons that appear in most of the remakes of the original Final Fantasy, starting with Final Fantasy I & II: Dawn of Souls, referencing Garland's ties with Chaos.
[view · edit · purge]The soul, in many religious, philosophical, psychological, and mythological traditions, is the incorporeal and, in many conceptions, immortal essence of a person, living thing, or object.
[view · edit · purge]Chaos is "the formless matter supposed to have existed before the creation of the universe."