Relm:

I couldn't miss the chance to practice my drawing!

This article is in need of a few pictures. Perhaps you can help by uploading a picture.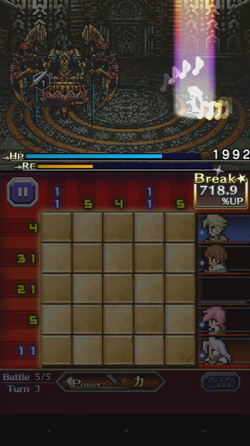 Soul Voice (ソウルボイス, Souru Boisu?) is a recurring ability in the Final Fantasy series. Recently it became associated with Princess Sarah and serves as her Limit Break.
Appearances
Edit
XI Soul Voice is the Final Fantasy XI Bard's special job ability. Soul Voice lasts for a period of three minutes, unlike most of the special job abilities available to other jobs which are instant or last for 30 seconds. This is largely due to the time involved in singing songs, which is generally between 3 and 8 seconds. A Bard might also be responsible for singing as many as a dozen songs in certain party combinations.
During the period when the special ability is active, any songs a Bard sings will have an "increased effect", as the game puts it. While this is not exact, in most cases, this means the effect of a song is doubled (for example: Foe Requiem VI, which normally would do 6 HP of damage every 3 seconds, would do 12, or if Valor Minuet ordinarily would boost a party member's Attack by 25, it would boost it by about 50). Offensive songs also become more difficult to save against, so they are more likely to affect the target.
TFF Soul Voice is an ability that doubles the effectiveness of Song type abilities cast by the user. It is learned by Princess Sarah and Cosmos.
TFFCC Soul Voice is a proactive ability that doubles effects of song-type abilities, with its effect only applying to the character equipping it. It is learned by Princess Sarah at level 40, Aerith at level 55, Vanille at level 90, and Cosmos at level 60.
FFAB Soul Voice is Princess Sarah's ability when she is in battle.
FFBE Soul Voice is a special, passive ability that reduces songs' MP cost by half. It is learned by 3★ Sarah at level 31 and 6★ Dangerous Ariana at level 61.
Etymology
Edit
[view · edit · purge]The soul, in many religious, philosophical, psychological, and mythological traditions, is the incorporeal and, in many conceptions, immortal essence of a person, living thing, or object.