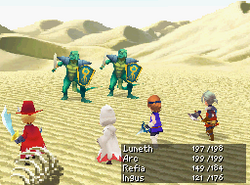 The Sonic Knuckles (ソニックナックル, Sonikku Nakkuru?) is a recurring fist weapon in the Final Fantasy series. It is often a mid-ranked weapon that has no special properties.
Appearances
Edit
III The Sonic Knuckles is the second weakest fist weapon, being above the Bronze Knuckles. It provides 28 Attack, +2 Agility, and can only be equipped by the Onion Knight, Monk, and Black Belt classes. It can be found in Tokkul as well as the Tower of Owen.
XI The Sonic Knuckles are a hand-to-hand weapon, accessible to all races, that provides a slight boost to accuracy and has the additional effect of wind damage. They can be found in the Meriphataud Mountains as a drop from level 27 or 28 Daggerclaw Dracos.
Dissidia The Sonic Knuckles is a level 36 grappling weapon that provides +44 Bravery and +27 Attack. It can be obtained at the shop by trading 11,300 gil.
Dissidia012 The Sonic Knuckles return as a level 30 grappling weapon that provides +59 Bravery, +27 Attack, and -468 HP. It can be obtained at the shop by trading 22,900 gil.
FFAB The Sonic Knuckles appears as a weapon. The normal rarity version has a base Attack of 70 and a base Defense of 100, a maximum level of 20, and a Cost of 1. It is a Fist weapon, it is elementally aligned with Wind, and it has a fast leveling rate.
Ad blocker interference detected!
Wikia is a free-to-use site that makes money from advertising. We have a modified experience for viewers using ad blockers

Wikia is not accessible if you've made further modifications. Remove the custom ad blocker rule(s) and the page will load as expected.