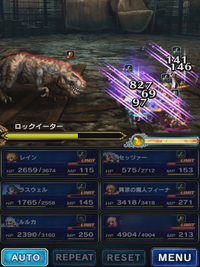 Sonic Fangs (ソニックファング, Sonikku Fangu?, lit. Sonic Fang) is a recurring enemy ability in the series.
Appearances
Edit
XII Sonic Fangs is an enemy ability used by Wild Saurian encountered in The Yoma and Broken Sands of Dalmasca Estersand, Hyena during the rains in Giza Plains, Wooly Gator, Baritine Croc, Bellwyvern, Hybrid Gator, Hellhound, Diresaur, Tyranorox, Sprinter, Antares, Archaeosaur, Feral Croc, Gorgimera, Cerberus, Tartarus, Giruveganus in Edge of Reason in the Feywood and Uldobi Phullam Udiipraa and Uldobi Jilaam Avaa in Great Crystal, Skulwyrm in Drybeam Cavern of Zertinan Caverns, Sirhru Jilaam Avaapraa, Sirhru Jilaam Avaapratii, Uldobi Jilaam Praa'dii, Uldobi Jilaam Praa'vaa, Uldobi Jilaam Pratii'vaa, Uldobi Phullam Praa'vaa, and Uldobi Phullam Pratii'vaa of Great Crystal, Archaeoaevis, Vyraal, Enkidu in Tasche Span and Site 7 of the Lhusu Mines, Tyrant, Hydro, Earth Tyrant, Bull Croc, Wary Wolf, Kaiser Wolf, Aeros, Skullash, and Mastiff in the Draklor Laboratory and Sky Fortress Bahamut. It inflicts non-elemental physical damage to one target with a potency of 70 and knockback of 40, and can also inflict Instant Death with a 5% chance.
Ad blocker interference detected!
Wikia is a free-to-use site that makes money from advertising. We have a modified experience for viewers using ad blockers

Wikia is not accessible if you've made further modifications. Remove the custom ad blocker rule(s) and the page will load as expected.