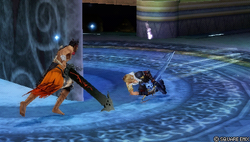 Sonic Buster (ソニックバスター, Sonikku Basutā?) is a recurring ability in the series. It is an attack used exclusively by Tidus.
Appearances
Edit
Dissidia Sonic Buster is a ground physical Bravery attack for Tidus, obtained at the start of the game. It requires 30 CP to equip (15 when mastered), 140 AP to master, has Melee Low priority, and induces Wall Rush. It is a mid-ranked charging tackle that deals more damage the closer Tidus is to his opponent.
Dissidia012 Sonic Buster returns as a Bravery attack for Tidus, now requiring 110 AP to master and now charges through the opponent twice before slamming them into the ground.