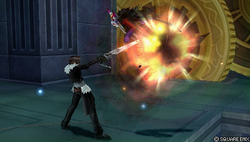 Solid Barrel (ソリッドバレル, Soriddo Bareru?) is a recurring ability in the series. It is an ability used exclusively by Squall Leonhart.
Appearances
Edit
Dissidia Solid Barrel is a ground physical Bravery attack for Squall, learned at level 3. It requires 30 CP to equip (15 when mastered), 120 AP to master, has Melee Low priority, and can induce Chase. Squall slashes the opponent four times from close-range with four quick slashes, then stabs upwards while triggering the gunblade three times, sending the victim flying.
Dissidia012 Solid Barrel is a Bravery attack for Squall, requiring 100 AP to master but is otherwise identical to its previous incarnation.