Soldier (Final Fantasy IX)
Talk

0
16,094 pages on
this wiki
Final Fantasy IX Enemy
Soldier
女兵 (Onna Hei)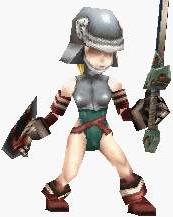 Statistics
Level
HP
MP
9
459
342
Strength
Defense
Evade
10
10
2
Magic
M. Defense
M. Evade
10
10
3
Attack
Spirit
Speed
17
14
20
EXP
AP
Gil
357
1
292
Soldier
女兵 (Onna Hei)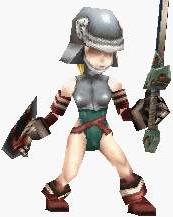 Statistics
Level
HP
MP
10
523
358
Strength
Defense
Evade
10
10
2
Magic
M. Defense
M. Evade
10
10
3
Attack
Spirit
Speed
18
14
21
EXP
AP
Gil
400
2
311
Soldier
女兵 (Onna Hei)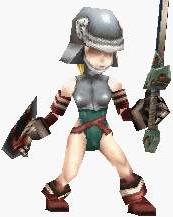 Statistics
Level
HP
MP
{{{level3}}}
{{{HP3}}}
{{{MP3}}}
Strength
Defense
Evade
{{{Strength3}}}
{{{Defense3}}}
{{{Evade3}}}
Magic
M. Defense
M. Evade
{{{Magic3}}}
{{{Magic Defense3}}}
{{{Magic Evade3}}}
Attack
Spirit
Speed
{{{Attack Power3}}}
{{{Spirit3}}}
{{{Speed3}}}
EXP
AP
Gil
{{{Exp3}}}
{{{AP3}}}
{{{Gil3}}}
| | |
| --- | --- |
| Location | {{{Location3}}} |
| Class | {{{Class3}}} |
| Steal | {{{Steal3}}} |
| Item Dropped | {{{Win3}}} |
| Card Dropped | {{{Card3}}} |
| Abilities | {{{Attack3}}} |
| Status Immunity | {{{Status3}}} |
| Eat | {{{Eat3}}} |
| Other Information | {{{Other Information3}}} |
Soldier
女兵 (Onna Hei)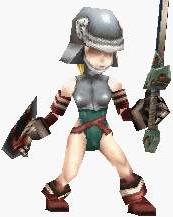 Statistics
Level
HP
MP
{{{level4}}}
{{{HP4}}}
{{{MP4}}}
Strength
Defense
Evade
{{{Strength4}}}
{{{Defense4}}}
{{{Evade4}}}
Magic
M. Defense
M. Evade
{{{Magic4}}}
{{{Magic Defense4}}}
{{{Magic Evade4}}}
Attack
Spirit
Speed
{{{Attack Power4}}}
{{{Spirit4}}}
{{{Speed4}}}
EXP
AP
Gil
{{{Exp4}}}
{{{AP4}}}
{{{Gil4}}}
| | |
| --- | --- |
| Location | {{{Location4}}} |
| Class | {{{Class4}}} |
| Steal | {{{Steal4}}} |
| Item Dropped | {{{Win4}}} |
| Card Dropped | {{{Card4}}} |
| Abilities | {{{Attack4}}} |
| Status Immunity | {{{Status4}}} |
| Eat | {{{Eat4}}} |
| Other Information | {{{Other Information4}}} |
The Soldier is an enemy from Final Fantasy IX. They are fought at various points in the story, namely Cleyra and Alexandria Castle. Removing more than 90% of their health will prompt them to escape.

This article or section is a
stub
about an enemy in
Final Fantasy IX
. You can
help
Final Fantasy Wiki by
expanding it
.