Snowstorm
Talk

0
13,959 pages on
this wiki
Relm

: I couldn't miss the chance to practice my drawing!
This article is in need of a few pictures. Perhaps you can help by

uploading

and adding a picture or two.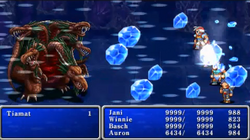 "A geomancy skill that inflicts damage with the power of snow."
—Description, Final Fantasy Tactics.
Snowstorm (吹雪, Fubuki?), also called Blizzard (not to be confused by the spell of the same name) or Icestorm, is a recurring ability in the Final Fantasy series. It is usually a multi-target attack that deals Ice damage.
Appearances
Edit
Icestorm, originally called Blizzard, is used by the Frost Dragon, Tiamat and by Shinryu in the GBA/PSP/iOS versions. It inflicts moderate to major Ice-elemental damage to the party. Another version originally called Icestorm in the Playstation and Gameboy Advance versions exists known as Frost.
Originally called Snowstorm, it inflicts major Ice-elemental damage to the party, and is used by the enemies Ice Lizard, Tiamat, and White Dragon. Phrekyos can also use it if 9 or more of the story Key Terms.
Called Blizzard in the NES fan translation, it inflicts minor Ice-elemental damage to the party. It is used by Unne and Ahriman. In the remake version, the Geomancer's Terrain can use Ice Storm to deal Ice and Water-elemental damage to all enemies. There is a 50% chance of it being used in Ur, and 48% chance ofi t being used in forest and land on the world map, Dragon's Peak, Castle Sasune, Bahamut's boss fight, Crystal Tower, Dragon Spire, Castle Hein, Goldor Manor, Tower of Owen (except Floor 1), and sky terrain.
Icestorm is used by several powerful enemies, including Frostbeast, Lunar Shiva and Blue Dragon, and it deals major Ice-elemental damage either to one or more random party members.
Icestorm returns as Frostbeast attack and it deals major Ice-elemental damage randomly to either one or more party members. It can also be used by Shiva.
Originally translated as Icestorm, it is an enemy ability used by several enemies, including Bahamut, Shinryu, and Twintania. It inflicts major Ice-elemental damage to the party. The player may utilize this ability by catching and releasing an Enchanted Fan, Frost Bull, Achelon, or Blue Dragon.
Snowstorm is most prevalent as an ability in Final Fantasy VI. Equipping Umaro with the Blizzard Orb may randomly cause him to cast Snowstorm on all enemies. Its Spell Power is 100, and it cannot be dodged. Gau can perform Umaro's version of Snowstorm with the Black Dragon Rage. The monster's version of Snowstorm is much weaker, and Gau's Rages of the mammoth type all have Snowstorm. The enemy's Snowstorm has a Spell Power of 25 with a Hit Rate is 140, and it cost 20 MP for the enemy to use.
Snowstorm is an enemy ability that is programmed to be used by Lessaloploth, but is never used in-game.
Snowstorm is an enemy ability used only by Ash, and inflicts major Ice-elemental damage to the entire party.
Snowstorm is an ability that can be learned through the Geomancer job. A Geomancer standing on either the Snow or Ice terrain tile will use Snowstorm to deals Ice-elemental damage with a chance of inflicting Silence to any enemy units within five squares. It costs 150 AP to master.
Snowstorm is an attack exclusive to the Ice Golem. It inflicts Water-elemental damage to both party members and heals some HP to the golem. It has an attack power of 250.