Snow Villiers
18,963 pages on
this wiki
Talk

127
Snow Villiers is a playable character in Final Fantasy XIII who appears as a guest character in Final Fantasy XIII-2, and as a non-playable character in Lightning Returns: Final Fantasy XIII.
In Final Fantasy XIII, Snow is determined to save his fiancée, Serah Farron, from her fate as a l'Cie despite Serah's sister Lightning's disapproval of their relationship. He is turned into a l'Cie himself, and sets on a journey to save Cocoon—a fal'Cie-built utopia where they live—and reunite with Serah.
In Final Fantasy XIII-2, Snow goes off in search of Lightning who has disappeared, being the only one to believe Serah's claims that her sister is still alive.
In Lightning Returns: Final Fantasy XIII, Snow is the patron of the city of Yusnaan, and the last l'Cie in the world. Close to becoming a Cie'th, he awaits the time he can die and reunite with Serah.
Final Fantasy XIIIEdit
Snow resembles the Monk class of past games by fighting bare-handed, dealing high damage and having the best HP growth. Snow's primary strength is in his defensive abilities and he has the third highest Strength. He is not incompetent in the magical department, however, with many useful spells available to him. Snow's attacking and casting speeds, especially his casting speeds due to having two hands with which to cast his spells, are slightly better than many of the others'. The player may want to focus on either Strength or Magic to bias his attack sequences for the AI. The only thing he does worse with a magic build compared to a physical build is generally less damage as a Commando.
Snow's weakness is that he is almost completely outclassed by Fang, who learns all but two (Curasa and Blizzaga) of his non-Synergist abilities, and has better Strength and Magic. Snow's main niche is having the fastest animation speeds, but the lack of Commando's siphon abilities implies a speed-focused Snow was not an intended build. Sentinel is not among the most useful roles for most of the game, and Fang can do it when needed while being more useful overall. However, Snow comes to his own late-game with upgraded weapons when the player no longer needs to worry about class restrictions, and having some of the fastest animations across the board becomes useful.
Snow is the only character in the party who has two exclusive skills: the Hand Grenade usable in the first two chapters, and his Full ATB Skill, Sovereign Fist. Snow is the only character whose Crystarium automatically updates at the end of Chapter 3. Snow is the only character to completely outclass another in terms of base stats, with his HP, Strength and Magic all being higher than Sazh's at maximum Crystarium growth.
Snow excels in the Sentinel role, and has the highest HP growth out of the six characters, and weapons which provide bonuses to defense and Sentinel abilities. He learns all Sentinel abilities except for Elude.
As a Ravager, he learns all Ice and Water abilities, but can also learn Wind magic up to the -"ra" level. He learns Vigor, making him potentially the best endgame Ravager considering his fast casting animation.
As a Commando he lacks the Siphon abilities, but his high Strength makes him deal a lot of damage and his high HP will usually keep Adrenaline active. Snow's Full ATB Skill is Sovereign Fist, which clears the enemy's stagger gauge when executed. It tends to be slightly stronger than Fang's equivalent, Highwind, but once both are hitting the damage cap they function the same.
As a Medic Snow learns the same four spells Sazh does. Curasa allows Snow to be a serviceable Medic since it's not affected by Magic much. Snow is one of only three party members to learn the useful Daze spell as a Saboteur, and Curse, Pain, Fog and Slow are all good debuff spells to have as well.
Snow's weakest role is likely Synergist, as his skillset is ordinary and he learns them late. He is denied the Bar- and En-spells.
Base Statistics
| Stat | Beginning | l'Cie | Mastered Crystarium |
| --- | --- | --- | --- |
| HP | 350 | 500 | 30,000 |
| Strength | 17 | 32 | 1,500 |
| Magic | 7 | 22 | 1,200 |
Snow's Eidolon is the Shiva Sisters, Stiria and Nix. Stiria is the dark-skinned elder sister. Nix attacks the enemies with mostly physical attacks, while Stiria wields powerful ice and healing spells. They can combine into a motorcycle for Snow to ride on for their Gestalt Mode.
Snow is the only playable character who fights his Eidolon alone and he doesn't help other party members to fight their Eidolon.

Snow's weapon uses AMP technology to enhance his powers. Although it changes the appearance of his coat when in battle, the coat itself is not the weapon. The coat augments the wearer's strength depending on which emblem set is sewn onto the back (the emblems only appear during combat). Snow's weapon is the only weapon that cannot subtract or change forms.
There is a glitch in the game that renders Snow's weapon outside of battle, letting him have a "different" coat on the field. If the player kills a beast on a mission with another character's Eidolon and the summoning is executed while the beast is attacking Snow, Snow's weapon stays on him, even on the field.
Wild Bear is Snow's starting weapon with balanced stats, although Snow doesn't really need the "Physical Wall" it offers. Power Circle boosts his Strength, and is obtained early in the game.
Paladin augments Snow's Sentinel role; Mediguard and Steelguard already add 20% damage reduction, but Paladin's "Improved Guard" adds further 8%, while Lv II adds 16%. It can also synthesize the ability "High HP: Power Surge" which increases damage dealt by 20% at HP above 90%. The trade-off is the low max stats.
Umbra has "Improved Ward" that augments the skills Deathward and Fringeward, but these are rarely triggered. It also has "Magic Wall" but its benefit is negligible. It also has low stats.
Feymark makes Snow a magic-oriented character with high Magic at the cost of "Enfeeblement" and ability to synthesize "Magic Damper," making Snow immune to all magical attacks. However, physical attacks still hurt, healing magic will have no effect on him, and it would require equipping four Magistral Crests to synthesize Magic Damper.
Rebel Heart offers "Critical: Power Surge" and "Low HP: Power Surge" by keeping Snow's HP low. Its low stats may be only a minor problem since one is supposed to multiply the damage via the "Power Surges," but it's not easy to get Snow's HP into the specific range as the party starts each battle at full health, and the player can't switch to a paradigm with any AI-controlled Medics.
Unsetting Sun is Snow's "Stagger Lock" weapon, but it has low stats, lower than what the Power Circle can give.
Sacrificial Circle has "Paper Tiger" that cuts his HP by 40% in exchange for the highest total stats. Even though it's Snow's highest Strength and Magic weapon, it is recommended to use his Power Circle over it as its Strength stats are similar and Snow will not have the 40% HP penalty from Paper Tiger.
Final Fantasy XIII-2Edit
Snow is a guest character in the Sunleth Waterscape 300 AF. Just like Gadot and Lebreau from Final Fantasy XIII, Snow has infinite HP, and thus cannot be knocked out. He is immune to status ailments and certain buffs are ineffective; he can, however, gain any of the En- spells if cast by a Synergist monster. Snow's Strength and Magic stat are at 273 each, and he has an ATB of 5.
Snow functions as a full-time Commando using Attack, Ruin, Blitz, and Launch. He is feeble when it comes to magic, which puts him at a disadvantage when pitted against flan enemies, the main enemies in the Sunleth Waterscape. His main use is to keep the enemies' stagger gauges from depleting.

Paradigm Pack
Edit
Snow can join the player's Paradigm Pack as a Sentinel. He has by far the highest HP of any monster in the game, which can rise well beyond 20,000 if Vitality Crystals are used in his development and the HP: +30% passive ability is infused into Snow. One drawback is while he has high HP, he does not have any innate resistances, meaning he would be no better than other Sentinels with 10,000+ HP that can halve all attacks, abilities aside.
Tameable Monster
Name
Snow
Role
Sentinel
Traits
Early Peaker - Pinch Hitter - Heroic
Composition
Biological
Start Grade
Max Level
20
HP
8,258
Strength
618
Magic
499
ATB Segments
6
Stages
1
Innate Affinities
Feral Link
Sovereign Fist (Unleash a devastating blow. Damaging varies by situations. Input Type: Multiple.)
Crystarium Development Graph

| | | |
| --- | --- | --- |
| Green: HP / 10 | Red: Strength | Purple: Magic |

Ability
Type
Level
Infusible
Provoke
Command
Initial

Mediguard

Command
Initial

Enhanced Sentinel

Passive
Initial

Improved Ward II

Passive
Initial

Critical Power Surge II

Passive
3

Vendetta

Command
4

Fringeward

Auto
5

Deathward

Auto
6

Element Guard

Command
8

Improved Guard II

Passive
9

Challenge

Command
10

Entrench

Command
11

Improved Counter II

Passive
12

Critical: Tetradefense

Command
13
Snow is part of a post-release downloadable content, where he can be found in the Coliseum and fought against as a boss.
He can perform the Sovereign Fist as his instant kill move which he will use only if he attacks the same target for too long. If the player tames his crystal, Snow will join as a Sentinel with the highest HP any monster can achieve.

Snow is fought as a boss in Patron's Palace. Depending on which day he is fought, his stats and appearance change.

Creation and development
Edit
According to the April 2009 edition of Famitsu, Tetsuya Nomura based Snow's bandana on an unused design that was originally planned for Kingdom Hearts coded.[3] Snow was given a passionate and impulsive attitude to contrast Lightning's cold and harsh mannerisms.[4] However, earlier in his development, he was given a more negative appearance: being an athletic fanatic with a loud mouth and the mannerisms of a gang leader.[5]
Before his official name was revealed, Snow was referred to as "Mr. 33cm," referring to his foot size.[6] According to the Japanese voice actor interviews from Final Fantasy XIII Ultimania Omega, Snow's name was originally planned to be "Storm".[7] In an early unfinished model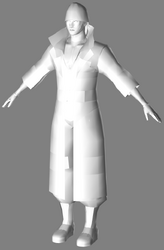 unearthed from an E3 Preview Disc, Snow didn't yet have the scarf hanging from his belt. It turns out this model was actually for the PlayStation 2, before the development of Final Fantasy XIII moved to PlayStation 3. In an early E3 trailer, Snow was seen using AUG role
, which presumably stands for "augmenter," bestowing positive statuses on the party. The role's color was the same as is Synergist's, implying that at some point during development Snow might have been intended to have Synergist as one of his main roles.
Final Fantasy XIII-2 Ultimania Omega reveals scrapped plans for an extension to Snow's DLC scenario episode titled "Perpetual Battlefield." Alongside the existing part of the episode in the Coliseum, there would have been a minigame in which players would play as Snow riding through the Archylte Steppe. The player's objective would have been to try and kill 30 monsters using Snow's skillset–which included being able to spin, drift, jump and use a water-based spell. Once this part of the DLC was scrapped, the minigame was used as a base for the Chocobo Racing minigame.[8]
His tortured appearance in Lightning Returns: Final Fantasy XIII was meant to be symbolic of the world's evolution, and how even he, an optimistic hero by nature, had become "shattered" by the fate of the world. Having lost Serah and spent centuries without her, Snow's heart fell into darkness. His Cie'th form was designed to become more and more extreme, meant to be "the very symbol of Chaos."[9]
Snow's Japanese voice actor is Daisuke Ono while his English voice actor is Troy Baker.
Troy Baker talked about taking up the role of Snow at Sakura Con 2010,[10] where he commented on how Snow appears as such a tough and strong character, and how many thought Baker's image wouldn't match that of the character he was voicing.

Musical themes
Edit
In Final Fantasy XIII, "Snow's Theme" is a rock tune played with electric guitars portraying his heroic personality. "The Warpath Home" has elements of his theme and the Final Fantasy XIII prelude.
Orchestral variants of his theme are "Forever Fugitives," "To Hunt l'Cie," and "Atonement," while "No Way to Live" is a rock variant, much like his original theme.
In Lightning Returns: Final Fantasy XIII, "Snow's Theme ~Final Words~" is a melancholy tune played with acoustic guitar and piano. It plays after Lightning saves Snow in the Yusnaan Palace. A reprise with guitar and orchestra is heard in the end credits theme, "Credits ~Light Eternal~."

Other appearances
Edit
Snow's Final Fantasy XIII costume and a temporary weapon he created during the opening movie of Lightning Returns: Final Fantasy XIII, dubbed l'Cie Bardiche in Final Fantasy XIV, where included in the game as a bonus item in the event Lightning Strikes. Lightning appeared in the same event.
Cloud:

I couldn't finish 'em. Looks like this's gonna get complicated.

The following tables are incomplete for one or more reasons. If you wish, please examine the table and add anything missing. Remove this notice upon completion.
Snow is an unlockable character obtained by collecting White Shards.
He is a Defense oriented character.
| Level | HP | CP | Strength | Magic | Agility | Luck |
| --- | --- | --- | --- | --- | --- | --- |
| 1 | 375 | 5 | 12 | 12 | 14 | 15 |
| 10 | 1,500 | 10 | 27 | 27 | 31 | 33 |
| 20 | 2,750 | 16 | 43 | 43 | 50 | 54 |
| 50 | 6,499 | 33 | 93 | 93 | 108 | 116 |
| 80 | 9,344 | 50 | 132 | 131 | 153 | 163 |
| 90 | 9,689 | 50 | 137 | 136 | 158 | 169 |
| 99 | 9,999 | 50 | 141 | 141 | 163 | 175 |
iOS stats
Edit
Snow returns as an unlockable character, and is now unlocked by collecting Peach Crystal Shards.
He is a Defense oriented character. His Limit, Sovereign Fist, deals damage in proportion to his Strength.
| Level | CP | HP | Strength | Magic | Agility | Luck | Stamina | Spirit |
| --- | --- | --- | --- | --- | --- | --- | --- | --- |
| 1 | 5 | 376 | 12 | 8 | 11 | 14 | 21 | 8 |
| 50 | 33 | 6500 | 92 | 62 | 90 | 112 | 169 | 63 |
| 99 | 50 | 9999 | 138 | 93 | 136 | 168 | 255 | 95 |
Abilities
Edit
Snow is an ally, a summonable Legend and a boss in Final Fantasy Airborne Brigade. He is depicted in his Final Fantasy XIII, Final Fantasy XIII-2, and Lightning Returns: Final Fantasy XIII outfits.
Snow is an exclusive character only available from the Premium Character Shop as a random downloadable content. He uses the Ice Ramp ability during battle.

Snow appears in Final Fantasy Record Keeper. A standard character, Snow can be recruited as the First-Time Reward for completing the Record of the Hanging Edge on Classic difficulty. During the Challenge Event Chasing Hope, Snow is a Tier 3 character acquired at the event's Hanging Edge, Part 1 stage, also on Classic difficulty.
Assessment
Snow is a Pulse l'Cie. His combat role is Physical Attack.
As so many others before him, Snow has been cast as a Monk in Final Fantasy Record Keeper, albeit one with shades of a Knight. As it is, he is built to deal heavy damage from the front rank as well as to function as a tank; all three physical stats are among the highest in the game. Despite his occupation, Snow cannot use any magical abilities; even though he has Mediguard, pairing him with a strong White Mage will be key to his success in battle.
Stats
Level
HP
Attack
Defense
Magic
Resistance
Mind
Accuracy
Evasion
Speed
1
224
10
10
9
7
8
20
20
111
10
1,129
32
30
19
15
18
20
20
117
20
1,949
52
49
31
24
30
20
20
124
30
2,707
70
67
45
35
43
21
21
131
40
3,427
88
83
59
46
57
21
21
138
50
4,121
109
107
73
68
72
22
22
145
60
4,793
126
124
88
82
87
23
23
151
Rank

Max: 5

5
5
4
2
1
2
3
3
4
Abilities
Snow can use Combat abilities up to rarity rank 5, Celerity abilities up to rarity rank 2, Monk abilities up to rarity rank 5, and Knight abilities up to rarity rank 5.
His default Soul Break is Mediguard which at the expense of one Soul Gauge segment grants 35 second long Protect and 30 second long Regen on the user. The light armor Wild Bear (XIII) allows Snow to use Froststrike which at the expense of one Soul Gauge segment deals ice damage to one target with 480% of a conventional physical attack. The fist Paladin (XIII) allows Snow to use Sovereign Fist which at the expense of one Soul Gauge segment deals two successive physical attacks to all targets, each hit having 175% damage potency of a conventional attack totaling for 350% total damage potency, with a moderate chance to interrupt their actions by inflicting Stun with 20% chance.
Equipment
Snow can equip the following weapon types: daggers and fists. The fist Paladin (XIII) allows Snow to use Sovereign Fist.
He can equip the following armor types: shields, hats, helms, light armor, heavy armor, robes, and bracers. The light armor Wild Bear (XIII) allows Snow to use Froststrike.
He can equip accessories.
Gallery
Snow appears on multiple Ice-elemental cards. One depicts him in his CG render from Final Fantasy XIII, one from an in-game scene, one from Final Fantasy XIII-2, one in Theatrhythm Final Fantasy, and one his official render from Lightning Returns: Final Fantasy XIII.
Snow appears alongside the Shiva Sisters on a Triple Triad card in the version playable via Final Fantasy Portal App.

Non-Final Fantasy guest appearancesEdit
Snow appears as an avatar in the Nintendo DS Kingdom Hearts Re:coded game, along with Serah, Lightning, Sazh and Vanille.

Merchandise
Edit
Snow has a Play Arts action figure, as all permanently playable Final Fantasy XIII characters do. Snow has also appeared in Elixir cans. Snow's NORA pendant, and Snow and Serah's engagement pendants of Cocoon have also been released as official merchandise.
Glico, the snack company has been working with Square Enix to promote Lightning Returns: Final Fantasy XIII in Japan. Lumina appears on Pocky box along with Lightning and Snow.
Etymology
Edit
[view · edit · purge]"Villiers" is a common French toponym and a surname derived from the Latin/Italian word villa, "country-house, estate". It is also the name of a fairly well-known motorcycle company. This may allude to his summon's Gestalt mode.
"Snow" refers to his affiliation with the Ice and Water elements, and may have been a counterpoint to Lightning whose name is also weather-related.
Snow's eidolith crystal is in the shape of a heart.

Snow's crystal is used for the "L'Cie Paragon" trophy/achievement in Final Fantasy XIII and the "No Retreat" trophy/achievement in Final Fantasy XIII-2.

A calico cat that NORA gave Serah after his departure in Final Fantasy XIII-2 is named after him.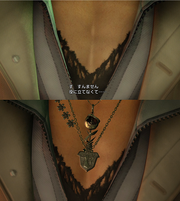 In Snow's official CG render he is not wearing his NORA necklace or his engagement pendant, though they were present in his render on the now-defunct Final Fantasy XIII summary website. Perhaps modeled after his official CG render, his Play Arts action figure also lacks jewelry. The missing necklaces may be explained by the earliest footage shown having had incomplete models, with Snow not yet wearing his accessories.
Snow wears his engagement pendant in Lightning Returns: Final Fantasy XIII even if Serah never gave it back to him in Final Fantasy XIII-2.
Snow's official CG render for Final Fantasy XIII was the only one not used for character bios in the instruction booklet included with the game. Instead, his Gestalt Mode render is used for the guide, as well as for the save screen.
Despite having a CG render for his appearance in Final Fantasy XIII-2, Snow never appears in a FMV cutscene.
As a running gag in Final Fantasy XIII, before each battle with Galenth Dysley, Snow attempts to attack him but is knocked back by a protective magical barrier. This gag is continued in Final Fantasy XIII-2 when Snow is unable to use a Time Gate to accompany Serah and Noel. In Lightning Returns: Final Fantasy XIII, the gag is put in reverse as Snow employs a barrier in the room in which he looks over the Chaos infusion leaving Lightning to find a solution to by-pass the barrier.
Snow, Lightning, Sazh, Hope and Noel appeared as models for the Showcase Prada 2012 Men's Spring/Summer Collection.
Snow is the only main character to be a l'Cie in all three games of the Final Fantasy XIII trilogy.
References
Edit