Relm:

I couldn't miss the chance to practice my drawing!

This article is in need of a few pictures. Perhaps you can help by uploading a picture.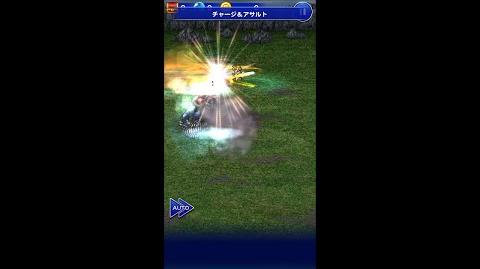 Slice & Dice (チャージ&アサルト, Chāji & Asaruto?, lit. Charge and Assault) is a recurring ability in the series, and is an ability used by Tidus, originally appearing as one of his Overdrives. It is a physical attack that deals minor to moderate damage over multiple hits.
Appearances
Edit
X Slice & Dice is Tidus's second Overdrive, learned after using his Overdrive 10 times. It inflicts physical damage to six random targets (three if the meter is not stopped). If there is only one target, that target will take all six/three hits.
Dissidia Slice & Dice (also called Charge & Assault) is an aerial physical HP Attack for Tidus, learned at level 33. It requires 300 AP to learn and 40 CP to equip (20 when mastered), and has Melee High priority.
Dissidia012 Slice & Dice returns as an aerial physical HP Attack for Tidus, now learned at level 9. It retains its Melee High priority, but now requires 130 AP to learn and 30 CP to equip (15 when mastered).
FFRK Slice & Dice is one of Tidus's equipment Soul Breaks available from the sword Lightning Steel (X) which at the expense of one Soul Gauge segment deals six successive attacks, dealing non-elemental damage to random targets, each hit dealing physical damage equal to 85% power of a conventional attack, summed up all hits cumulative damage is 510%. Bringing Tidus to battle and emerging victorious with Lightning Steel (X) equipped, he can eventually master this Soul Break and be able to use it without the need to have the weapon equipped.
TCG One of Tidus's card is able to use Slice & Dice. For the discard of another Tidus card, Slice & Dice allows the player to make Tidus Active and lets him attack an additional time the turn it is used.
Etymology
Edit
Slice and dice means to break an object down into smaller pieces.