Sleipnir (Final Fantasy XII)
Talk

0
16,313 pages on
this wiki
Final Fantasy XII Enemy
Sleipnir
スレイプニル (Sureipuniru)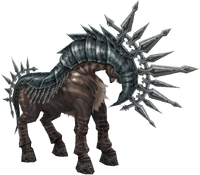 Minimum Stats
Maximum Stats
Level
Level
4
6
HP
MP
HP
MP
280
120
320
130
Strength
Magic
Strength
Magic
13
6
15
6
Defense
Mag Def
Defense
Mag Def
6
6
6
8
Vitality
Speed
Vitality
Speed
15
10
15
10
Attack
Evade%
Attack
Evade%
14
0
16
0
EXP
LP
EXP
LP
30
1
34
1
CP
Gil
CP
Gil
28
0
60
0
| | |
| --- | --- |
| Bestiary Location | Giza Plains |
| Location | Giza Plains (Starfall Field) - The Dry |
| Common Steal | Molting |
| Uncommon Steal | Storm Stone |
| Rare Steal | 30 gil |
| Common Drop | Molting |
| Uncommon Drop | Storm Stone |
| Rare Drop | Broadsword |
| Very Rare Drop | Potion |
| Monograph Drop | Pebble (30% - Hunter's Monograph) |
| Canopic Jar Drop | Arcana (1%) |
| Common Poach | Storm Stone |
| Rare Poach | Molting |
| Attacks | Maximum 2 hits. |
| Abilities | Kick |
| Innate abilities | N/A |
| Immune to | Doom, Disable, Sap, Lure |
| Other Information | N/A |
Sleipnir
スレイプニル (Sureipuniru)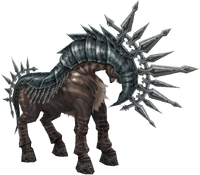 Minimum Stats
Maximum Stats
Level
Level
9
11
HP
MP
HP
MP
724
120
764
130
Strength
Magic
Strength
Magic
16
10
18
10
Defense
Mag Def
Defense
Mag Def
9
9
9
9
Vitality
Speed
Vitality
Speed
26
14
26
14
Attack
Evade%
Attack
Evade%
18
0
20
0
EXP
LP
EXP
LP
275
1
279
1
CP
Gil
CP
Gil
72
0
104
0
| | |
| --- | --- |
| Bestiary Location | Giza Plains |
| Location | Dalmasca Westersand (Shimmering Horizons, The Midfault, Windtrace Dunes) |
| Common Steal | Molting |
| Uncommon Steal | Storm Stone |
| Rare Steal | 30 gil |
| Common Drop | Molting |
| Uncommon Drop | Storm Stone |
| Rare Drop | Broadsword |
| Very Rare Drop | Potion |
| Monograph Drop | Pebble (30% - Hunter's Monograph) |
| Canopic Jar Drop | Arcana (1%) |
| Common Poach | Molting |
| Rare Poach | Iron Carapace |
| Attacks | Maximum 2 hits. |
| Abilities | Kick |
| Innate abilities | N/A |
| Immune to | Doom, Disable, Sap, Lure |
| Other Information | N/A |
Sleipnir
スレイプニル (Sureipuniru)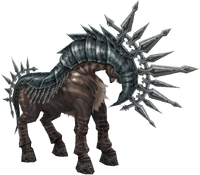 Minimum Stats
Maximum Stats
Level
Level
{{{3 Lvl min}}}
{{{3 Lvl max}}}
HP
MP
HP
MP
{{{3 HP min}}}
{{{3 MP min}}}
{{{3 HP max}}}
{{{3 MP max}}}
Strength
Magic
Strength
Magic
{{{3 Str min}}}
{{{3 Mag min}}}
{{{3 Str max}}}
{{{3 Mag max}}}
Defense
Mag Def
Defense
Mag Def
{{{3 Def min}}}
{{{3 M.Def min}}}
{{{3 Def max}}}
{{{3 M.Def max}}}
Vitality
Speed
Vitality
Speed
{{{3 Vitality min}}}
{{{3 Speed min}}}
{{{3 Vitality max}}}
{{{3 Speed max}}}
Attack
Evade%
Attack
Evade%
{{{3 Atk min}}}
{{{3 Evd min}}}
{{{3 Atk max}}}
{{{3 Evd max}}}
EXP
LP
EXP
LP
{{{3 EXP min}}}
{{{3 LP}}}
{{{3 EXP max}}}
{{{3 LP}}}
CP
Gil
CP
Gil
{{{3 CP min}}}
{{{3 Gil min}}}
{{{3 CP max}}}
{{{3 Gil max}}}
| | |
| --- | --- |
| Bestiary Location | Giza Plains |
| Location | {{{3 Location(s)}}} |
| Common Steal | {{{3 Common Steal}}} |
| Uncommon Steal | {{{3 Uncommon Steal}}} |
| Rare Steal | {{{3 Rare Steal}}} |
| Common Drop | {{{3 High Drop}}} |
| Uncommon Drop | {{{3 Medium Drop}}} |
| Rare Drop | {{{3 Low Drop}}} |
| Very Rare Drop | {{{3 Very Low Drop}}} |
| Monograph Drop | {{{3 Monograph}}} |
| Canopic Jar Drop | {{{3 Canopic}}} |
| Common Poach | {{{3 Common Poach}}} |
| Rare Poach | {{{3 Rare Poach}}} |
| Attacks | {{{3 Attack(s)}}} |
| Abilities | {{{3 Abilities}}} |
| Innate abilities | {{{3 Innate}}} |
| Immune to | {{{3 Immune to}}} |
| Other Information | {{{3 Additional}}} |
Sleipnir
スレイプニル (Sureipuniru)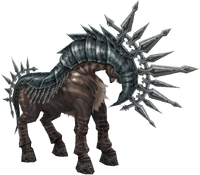 Minimum Stats
Maximum Stats
Level
Level
{{{4 Lvl min}}}
{{{4 Lvl max}}}
HP
MP
HP
MP
{{{4 HP min}}}
{{{4 MP min}}}
{{{4 HP max}}}
{{{4 MP max}}}
Strength
Magic
Strength
Magic
{{{4 Str min}}}
{{{4 Mag min}}}
{{{4 Str max}}}
{{{4 Mag max}}}
Defense
Mag Def
Defense
Mag Def
{{{4 Def min}}}
{{{4 M.Def min}}}
{{{4 Def max}}}
{{{4 M.Def max}}}
Vitality
Speed
Vitality
Speed
{{{4 Vitality min}}}
{{{4 Speed min}}}
{{{4 Vitality max}}}
{{{4 Speed max}}}
Attack
Evade%
Attack
Evade%
{{{4 Atk min}}}
{{{4 Evd min}}}
{{{4 Atk max}}}
{{{4 Evd max}}}
EXP
LP
EXP
LP
{{{4 EXP min}}}
{{{4 LP}}}
{{{4 EXP max}}}
{{{4 LP}}}
CP
Gil
CP
Gil
{{{4 CP min}}}
{{{4 Gil min}}}
{{{4 CP max}}}
{{{4 Gil max}}}
| | |
| --- | --- |
| Bestiary Location | Giza Plains |
| Location | {{{4 Location(s)}}} |
| Common Steal | {{{4 Common Steal}}} |
| Uncommon Steal | {{{4 Uncommon Steal}}} |
| Rare Steal | {{{4 Rare Steal}}} |
| Common Drop | {{{4 High Drop}}} |
| Uncommon Drop | {{{4 Medium Drop}}} |
| Rare Drop | {{{4 Low Drop}}} |
| Very Rare Drop | {{{4 Very Low Drop}}} |
| Monograph Drop | {{{4 Monograph}}} |
| Canopic Jar Drop | {{{4 Canopic}}} |
| Common Poach | {{{4 Common Poach}}} |
| Rare Poach | {{{4 Rare Poach}}} |
| Attacks | {{{4 Attack(s)}}} |
| Abilities | {{{4 Abilities}}} |
| Innate abilities | {{{4 Innate}}} |
| Immune to | {{{4 Immune to}}} |
| Other Information | {{{4 Additional}}} |
The Sleipnir is a beast/sleipnir-type enemy in the game Final Fantasy XII. It is found in the Dalmasca Westersand and in the Giza Plains during the Dry season in Starfall Field. In the game's playable demo the player must kill three Sleipnirs on the Phon Coast in order to lure out a boss, but Sleipnirs cannot be fought on the Phon Coast in the full game.
Bestiary Entry
Edit
Genus: Beast
Classification: Sleipnir
Page 1: Observations
Edit
Being the result of much breeding in a now long forgotten land, the aim of which being the creation of a superior war charger around which to build a cavalry without equal in all of Ivalice. In this time when a cavalry's strength mean victory or defeat, there was one knight whose feats in the saddle shone above all others. This hero named his horse 'Sleipnir,' a name later given to those steeds chosen by his disciples. In more recent days, the great cavalries of old are gone, their once proud steeds grown wild and feral at heart.
Page 2: Sage Knowledge 29 of 78
Edit
Main article: Sage Knowledge 27-52#SK 29: Ivalice
Related Enemies
Edit