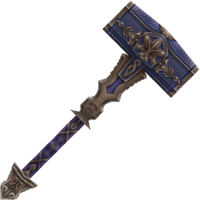 The Sledgehammer (スレッジハンマー, Sureggihanmā?) is a recurring high-ranked hammer in the series. It generally can inflict Confuse to targets upon hitting them with the weapon.
Appearances
Edit
The Sledgehammer is the second strongest hammer, with Thor's Hammer being the strongest. It provides 90 Attack, 30% Accuracy, +5 Strength, and can inflict Confusion when attacking with it. It is found on the last floor of Kain's Challenge Dungeon.
The Sledgehammer is a mid-ranked hammer that provides 77 Attack, 7% Combo Rate, +2 Evade, and a 20% chance to inflict Confusion on hit. Like all hammers it has 2.63s charge, and 1.2s action time, making it average what it comes to attack speed. It requires the Axes & Hammers 3 License, which costs 25 LP to obtain, and can be bought for 7500 gil at the Mosphoran Highwaste and Phon Coast.
The Sledgehammer is the second strongest hammer, being bested by the Mjolnir. It provides 52 Attack, 10 Resist, and teaches the ability Pillage to Vikings for 350 AP and the ability Oil to Green Mages for 250 AP. It can be obtained in the Bazaar by getting Solid Hammers C.