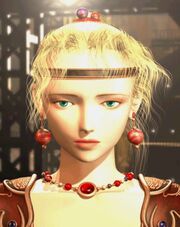 The slave crown (あやつりの輪, Ayatsuri no Wa?) is a device in Final Fantasy VI that allows one to control the actions and thoughts of the wearer.
Other Appearances
Edit
The Terra summon's rank five phantom stone artwork depicts Terra wearing the slave crown.

Dissidia Final Fantasy has a unique accessory called "Puppeteer's Wheel," which boosts the amount of time one can sustain EX Mode. Terra wears the accessory in Destiny Odyssey III when fought as an enemy, paralleling the Empire's control of her using the device in Final Fantasy VI. Also, in Dissidia 012 Final Fantasy some cutscenes show a lack of light reflection in her eyes, a gimmick commonly used in Japanese character designs to indicate either possession, hypnosis or trance.