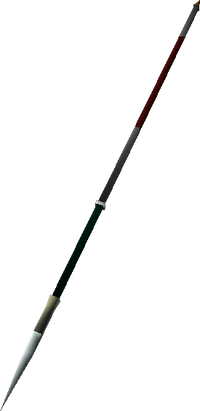 Slash Lance (スラッシュパイク, Surasshu Paiku?), also known as Slash Pike, is a recurring weapon in the series. It is often a low-ranked spear that provides no special bonuses.
Appearances
Edit
VII Slash Lance is the second weakest weapon for Cid, providing 56 Attack, 98 Atk%, and 10 Magic, as well as one single materia slot and two linked materia slots with Normal growth. It can be bought for 6,500 gil at Wutai.
Non-Final Fantasy guest appearancesEdit
Ad blocker interference detected!
Wikia is a free-to-use site that makes money from advertising. We have a modified experience for viewers using ad blockers

Wikia is not accessible if you've made further modifications. Remove the custom ad blocker rule(s) and the page will load as expected.